Accelrys Acquired By French Company for $750M
Thursday, January 30, 2014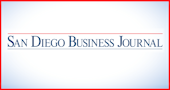 Accelrys Inc., a San Diego life sciences software company that's built itself on a series of mergers and acquisitions, has itself been acquired by France's Dassault Systèmes SA for $750 million in an all-cash deal.
Dassault (Paris: DSY.PA), which designs 3-D modeling software, bought Accelrys at a price of $12.50 per share — a 29 percent premium over its closing price of $9.72 on Jan. 29, the day before the announcement.
Accelrys (Nasdaq: ACCL) develops software to help optimize laboratory research processes — enabling scientists to access, organize, analyze and share data. Dassault said the acquisition will enrich its product lifecycle software, which is targeted toward the pharmaceutical, biotechnology, and food and beverage industries, among others.
Accelrys' board of directors unanimously approved the deal, which is expected to be completed in second quarter 2014.