San Diego County Credit Union Opens 32nd Branch
Tuesday, January 28, 2014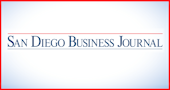 San Diego County Credit Union, the area's largest locally owned lender with $6.3 billion in assets, opened its 32nd branch Jan. 28 in the Target shopping center in the Midway area.
The newest branch at 3455 Sports Arena Blvd. is near the Valley View Casino Center and open Monday through Thursday, 9 a.m. to 5 p.m., Friday, 9 a.m. to 6 p.m., and Saturday, 9 a.m. to 4 p.m.
In other news, SDCCU said it grew by about $500 million in assets last year, and by more than 15,000 members to bring its total membership to 258,000.
For 2013, the credit union reported net income of $90 million, up 8.7 percent from the prior year. Loans were $3.35 billion, and deposits were $5.4 billion as of the end of 2013.
SDCCU said its net worth or equity was 12.76 percent at year end, well above the minimum 7 percent standard for credit unions that are 'well capitalized.'