FINANCE: DOES S.D. FUNDING LEVEL MARK A CLIMATE CHANGE?
VC Drought?
Saturday, January 25, 2014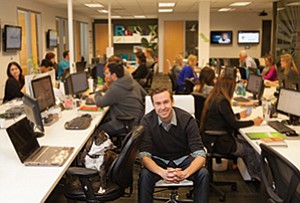 San Diego's Mogl was among the fortunate few early-stage companies that got venture funding soon after its restaurant customer loyalty business was launched.
CEO Jon Carder said the company went quickly from concept to seeking venture funding soon after it was founded in 2010. As of the end of 2013, Mogl received about $23 million, including $2 million in venture debt financing, in three rounds of investment.
San Diego-based Correlation Ventures is among the venture capital firms betting on Mogl, investing an undisclosed amount in the company's Series B round last year. Other VCs participating in the B round were San Diego-based Avalon Ventures and Austin, Texas-based Austin Ventures.
Mogl's customer loyalty platform is expanding so fast that it's planning an additional venture round in the second quarter of this year, likely raising $10 million, Carder said.
"Without venture funding, we wouldn't be here today," he said. "Venture capital is our lifeblood; it's our oxygen for us."
Yet for many such San Diego-area entrepreneurs, it appears to be getting harder to breathe as VC deal flow and volume hit their lowest levels in more than a decade.
Total VC funding into local firms totaled $757 million in 97 transactions, compared with $1.15 billion in 105 transactions in 2012, according to the MoneyTree Report of the national venture capital industry done by PricewaterhouseCoopers and the National Venture Capital Association. Local VC funding hasn't been that low since 2003, when 104 area companies attracted about $826 million.
David Titus, managing director of San Diego VC firm Windward Ventures and president of the San Diego Venture Group, said the trend in venture investing last year in San Diego is similar to what's happening nationally — activity is declining as the number of big VC firms contract.
"The venture industry is steadily contracting, and the number of investors who are committing funds is also consolidating," Titus said.
Nevertheless, last year's national VC climate was significantly warmer than San Diego's. Nationwide, the amount of VC dollars invested in 2013 increased 7 percent to $29.4 billion compared with 2012, according to the MoneyTree Report. The number of deals increased 4 percent to 3,995.
Need to Be 'Way Above Average'
Titus said the main reason for the drop-off locally is the excellent year that area life sciences and biotech companies enjoyed going public. Seven San Diego biotechs conducted initial public offerings last year, raising more than $154 million.
When VC portfolio companies issue stock or are acquired, early investors, including the venture firms, often rake in multiples on their investments. Yet for every business that sees huge profits once it's sold or from a successful IPO, there are eight or nine losers or break-even investments, Titus said.
"Out of 10 companies that you invest in, there will be three to four that are complete failures, three to four where you may get your money back, plus or minus," he said. "At the end of it, you make all of your money off of one or two deals."
Even before the recession, many venture firms were paring their portfolios and cutting way back on seed- and early-stage companies, Titus said.
Generally, a recently launched business that's less than a few years old needs to prove it's fast-growing before seeking VC investment, he said.
"You have to be showing significant customer traction. If your sales are flat or only growing moderately, it's going to be very difficult to attract venture capital," Titus said. "You have to be way above average."
Mogl apparently met such VC funding criteria in spades. In its announcement on a $10 million B series round one year ago, the company quoted Pete Solvik of San Francisco-based Sigma Partners: "We've been tracking Mogl for months and have watched the company exceed our expectations again and again. In less than nine months from launch time, the Mogl team has generated an explosive response from both consumers and restaurant partners, while effectively positioning itself as the most innovative loyalty platform of its kind," he said.
Carder said his company's performance evokes another industry online business that was successful.
"We're heading down the same road as Open Table," he said, referring to the San Francisco restaurant reservation platform that went public in 2009. "And we're growing at a similar rate."
Mogl is in six markets mainly in Southern California, as well as San Francisco, Phoenix and Ventura, and is constantly expanding those, he said.
Over the next three to five years, the company should be generating nearly $100 million in revenue, Carder said, declining to say what Mogl generated last year.
With 50 employees, including 35 in San Diego, Carder anticipates the total to double its workforce by year-end, and by the end of 2015, it could have 250 to 300 employees, most of whom will be selling Mogl's services to restaurants.
Banking on Co-Investment Strategy
Startup founders and seed investors — often friends and family and sometimes angel investors — must relinquish a percentage of equity for VC funding. Carder said 10 to 30 percent is typical in most arrangements; he declined to reveal what Mogl has surrendered so far.
David Coats, managing director of Correlation Ventures, has seen companies give up as much as 90 percent equity in venture arrangements, although transactions usually range from 25 to 50 percent, he said.
Unlike many venture firms taking a lead role, Correlation has carved out a niche as a co-investor, meaning it always invests alongside another venture capital firm, and doesn't demand a seat on the company's board.
"We founded Correlation to be a dream co-investor when a company management team and earlier investors want a professional, reliable investor and not another board member," Coats said.
Coats and other early Correlation partners developed predictive analytics software over some six years, building a database of past venture investments to help guide the partners in choosing the right companies to invest in. Correlation was founded in 2006, but it didn't begin investing until 2010 because of the recession.
Today, the firm has a portfolio of some 71 companies, including three in San Diego, and has raised about $165 million. Its maximum investment in a business is $4 million over the life of a company, with most investments ranging from $100,000 to $2 million. Nearly half of the firm's portfolio, or 30 companies, are smaller, early-stage businesses, Coats said.
Correlation had its first exit when last year when VMware bought portfolio business Virsto Software of Sunnyvale for an undisclosed price. Other venture firms that invested about $24 million in Virsto included August Capital, Canaan Partners, InterWest Partners and Southern Cross Venture Partners.
Because of standard nondisclosure agreements that Correlation and most other VC firms sign with their companies, the prices received in acquisitions are rarely revealed. Coats called the Virsto acquisition "a good exit" and didn't elaborate.
As for Correlation's investment in Mogl, Coats has no expectation of when it will see a return on that money, but so far, "we're pleased with the progress."