HOSPITALITY: PIER SOUTH BY PACIFICA INCLUDES WELL-RECEIVED RESTAURANT BY COHN GROUP
New Hotel a Boon to Imperial Beach
Saturday, January 25, 2014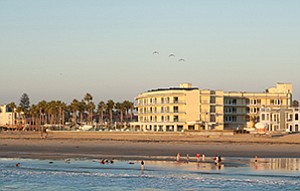 Pacifica Cos.' newly opened Pier South luxury hotel, with its ground-floor restaurant operated by Cohn Restaurant Group, has delivered a jolt of new business activity to Imperial Beach's long-sleepy beachfront area.
The neighborhood's next arrival will be Coronado Brewing Co., a South Bay staple since 1996, which by late spring plans to open a new craft beer pub and restaurant across the street from the new hotel on Seacoast Drive.
Coronado Brewing CEO Ron Chapman said the company had been waiting for the right time and location to expand into Imperial Beach for several years, following up on earlier openings of its flagship Coronado brew pub and its brewing facilities and tasting room near Mission Bay.
The arrivals of Pier South and Cohn's Sea180 Coastal Tavern, along with a well-received new location of the popular Filippi's Pizza Grotto close by on Palm Avenue, are so far giving the neighborhood an influx of visitors like Chapman has rarely witnessed.
"It's really good to see, because Imperial Beach for so long has just been this quiet little beach town," said Chapman, whose company plans a 4,000-square-foot bar and restaurant, serving 20 of its beers on tap in a space it's renovating at 875 Seacoast Drive, which previously housed Jersey Boys Diner.
"There really haven't been a lot of full-service eating establishments in that beach area," said Chapman, who co-founded Coronado Brewing with his brother Rick.
A New Level of 'Hustle and Bustle'
The tide appears to be shifting following years of city efforts to revive its moribund, beach-adjacent central business district. Greg Wade, Imperial Beach's assistant city manager, said the hotel project was pivotal in San Diego-based Filippi's decision to open there, well before Pier South debuted earlier this month.
Wade said the city is also in early talks with developers looking to build a mixed-use project about two blocks from the hotel, along Imperial Beach's main Palm Avenue business thoroughfare.
San Diego-headquartered Pacifica Cos. officially opened the new $28 million, 78-room hotel on Jan. 15. That followed the December opening of Sea180, operated by San Diego's David and Lesley Cohn and business partner Ken Irvine, who heads Irvine Hospitality Group of Coronado.
The beachfront hotel and restaurant replaced the aging Seacoast Inn, which stood on the site at 800 Seacoast Drive for several decades. Operators said business at the hotel has been brisk so far, with the new restaurant drawing steady crowds of locals and tourists.
"There's a hustle and bustle there that you just weren't seeing before," said Allison Rolfe, director of planning at Pacifica Cos.
Rolfe said about 90 percent of available rooms had been booked as of the hotel's second night, Jan. 16, and that was before work on about a quarter of the rooms and other finishing touches had been formally completed. A busy slate of meetings and other gatherings have taken place at the hotel's outdoor patio and indoor venues.
The new hotel is being operated by Pacifica's hospitality management division, Pacifica Host Hotels, under a licensing agreement with Marriott International Inc.'s Autograph Collection luxury brand.
New Looks From Developers
Projects in Imperial Beach come as the South County region in general is getting new looks from developers in the post-recession era, especially with large available land parcels remaining scarce in places like central and coastal San Diego.
Pacifica Cos. is also in design planning on the initial phase of its developments planned for the Chula Vista bay front. Planning for development of that area, expected to play out over the next 10 to 20 years, is in the works among city officials, the Port of San Diego and prospective private developers.
Pacifica Cos. and its designers are working on plans for the first phase of 200 for-sale condos at Chula Vista — out of a total 1,500 condos that the developer plans to build in several phases — and plans could be submitted to city officials around mid-2014.
That first phase of condos is expected to have a small amount of ground-floor retail and related commercial space, the first of up to 450,000 square feet of retail proposed at full build out. A future phase of Pacifica's work at Chula Vista is also expected to include a 250-room hotel.
"When we build a hotel is going to depend on what's the best time in the market," Rolfe said. "It's also going to depend on what other elements have been put in place by the city and other developers."