Maritime Business Is Growth Industry for Region
Saturday, January 25, 2014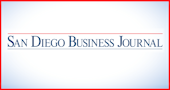 The Port of San Diego is looking forward to continued economic recovery in 2014, notably including our maritime business at Tenth Avenue Marine Terminal and National City Marine Terminal. Several promising trends and market forces give us reason for confidence in our maritime business.
Break bulk cargo — anything that does not fit in a container — is San Diego's sweet spot. By passing on the large container ships and focusing on break bulk and refrigerated cargo, San Diego is building a strong economic engine that balances well with the Port District's greater mission around the Big Bay. Our break bulk cargo ranges from bananas to yachts to soda ash to windmills to cars. Our cargo revenue was up 5.3 percent in fiscal 2013 over fiscal 2012, and fiscal 2014 is trending at a growth rate of 14 percent.
Currently, we have a solid mix of tenants at Tenth Avenue, anchored by Dole Fresh Fruit Co., and there is capital investment taking place, which drives growth. We also capitalize on the increasingly busy "spot market" for one-time cargo. Dole, a long-term tenant, is right now building larger ships with San Diego in mind. By the end of 2015, these new ships will provide more capacity both for imports and exports, which will translate into job and economic growth throughout our region. Dole's fresh fruit import business, which benefits from the Port's refrigerated warehouse facility at Tenth Avenue, is projected to grow next year.
Economic recovery also means more new car sales, and that bodes well for the National City terminal. Already on our nation's roads, one in every 10 new foreign cars arrives through National City. Pasha Automotive Services, the long-term National City terminal operator, has increased cargo volume every year since 2010, and there is every reason to expect the growth to continue. Automobile sales nationwide have fully recovered since hitting a 30-year low during the recession, according to Edmunds.com. Since 2009, U.S. auto sales have grown 50 percent — providing even more business for our terminal.
Our two cargo terminals directly impact San Diego's economy with more than 1,200 direct jobs and $210 million in direct business revenue.
Since 2012, the Port has actively participated in the Brookings Institution Metropolitan Export Initiative for San Diego, which seeks policy solutions to help local businesses export more goods and services. The Port of San Diego's role as economic catalyst is not just through importing products; we are pursuing an export strategy as well. Solar Turbines Inc., which recently started exporting equipment that it manufactures in San Diego, is scheduling a bigger export year with the port in 2014. This strategy of encouraging local San Diego businesses to use our local infrastructure for exports is just beginning and is the result of an all-star regional team.
The core team for this effort is the city of San Diego; San Diego Regional Chamber of Commerce; Department of Commerce International Trade Administration; University of California, San Diego; San Diego Economic Development Corp.; Biocom; Connect; Tijuana Economic Development Corp.; San Diego County Regional Airport Authority; and the port. In fiscal 2013, our terminals saw $4.9 billion worth of cargo imports, but only $78 million worth of cargo exports. We have a lot of room to increase export activity with no change in our existing facilities.
An extremely important dimension of the port's strategy for growth is our commitment to being a good steward of the natural resources around the Big Bay. While we pursue economic development, we are simultaneously pursuing new operational strategies and new technologies to reduce the impact of growth on the environment. Our current initiative of adding shore power to the terminals for cargo and cruise ships while they are moored reduces greenhouse gas emissions and lowers their fuel costs. The port's board of commissioners this month adopted a 23-point climate plan with the goal of achieving a 10 percent reduction of greenhouse gas emissions by 2020. In the 21st century, agencies and businesses can pursue economic growth and take care of the environment.
Last but not least, our tale of two terminals includes the military. San Diego is one of 17 federally designated strategic ports. The terminals are essential for day-to-day military activities — for example, for emergency use in time of crisis, for occasional assistance in transporting military equipment and for shipping service-member household goods to and from Hawaii. We stand ready to assist our military neighbors.
It has been a great year for economic growth at the Port of San Diego, and we look forward to a bright year ahead.
Marshall Merrifield and Dan Malcolm serve on the board of port commissioners for the San Diego Unified Port District, representing the cities of San Diego and Imperial Beach, respectively.