Sanford Gives $1M to National University Toward Training Teachers, Nonprofit Leaders
Monday, January 20, 2014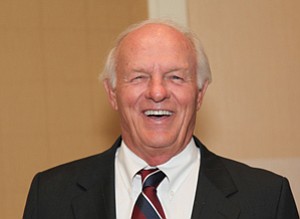 Businessman and philanthropist T. Denny Sanford has donated $1 million to help create the Sanford Education Center at National University in San Diego.
The new $10 million center will help train future teachers and nonprofit leaders, National University said. Its mission is to "effect positive change" by offering "inspirational and impactful programs that meet 21st century global needs."
It will house the Cause Leadership for nonprofit leaders, which provides certificates and advanced degrees in nonprofit management. The new center will also offer Sanford Education programs, which are already in effect at Arizona State University, integrating Teach for America principles into the curriculum.
Sanford, a South Dakota billionaire who founded First Premier Bank and United National Corp., has donated more than $1 billion to help form different health, education and research institutes around the country. He has focused a significant amount of his contributions in the San Diego area.
In November, he pledged $100 million to University of California, San Diego to establish a clinical stem cell center at the school and hospital. In 2007, he donated $20 million to what is now called the Sanford-Burnham Medical Research Institute in La Jolla. Sanford also donated $30 million in 2008 for the development and construction of the Sanford Consortium of Regenerative Medicine, which opened in 2011.