DINING: ENLIGHTENED HOSPITALITY IS NOW PART LONDON-BASED COMPANY
Hakkasan to Decide how to Weave S.D. Firm Into Its Fabric
Saturday, January 18, 2014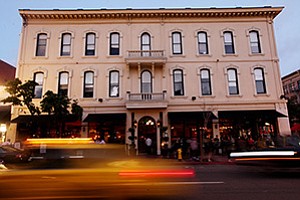 San Diego's Enlightened Hospitality Group LLC is now part of a global entity, following the recent acquisition of the restaurant and nightclub operator by London-based Hakkasan Ltd. for an undisclosed price.
Hakkasan CEO Neil Moffitt said future results of the deal could include local and worldwide expansion of Enlightened's "fabric of social dining" restaurant concepts, Searsucker and Herringbone, as well as its popular downtown Stingaree nightclub.
Hakkasan's own upscale restaurant and nightclub brands could also find a home in San Diego County.
"While there is nothing set in stone at the moment, [Enlightened Hospitality's] restaurant concepts have obviously been very well-received in the area, so there's no reason why we wouldn't continue to build our business there, as well as introduce brands from the Hakkasan family," Moffitt said in an email.
"We entered into this deal because we felt that the brands have huge potential both nationally and internationally, and we intend to be catalysts for that growth," he added.
Enlightened's Top Chef
The privately held Enlightened Hospitality, started in 2010, is led by CEO James Brennan and his business partner, celebrity chef Brian Malarkey, who rose to national culinary fame as a competitor on the TV series "Top Chef."
Malarkey is also executive chef at the company's restaurants, which now include three locations of Searsucker and two locations of Herringbone. In the first move of the new venture, Hakkasan and Enlightened are jointly operating the Herringbone that recently opened at the Mondrian Los Angeles hotel in West Hollywood.
Enlightened's upscale restaurants have bars and dining areas that are arranged to encourage direct social interaction among patrons at different tables.
Brennan said via email that the deal with Hakkasan did not include two Green Acre farm-to-table eateries, operated by Enlightened at San Diego life-science office campuses through management contracts with the buildings' owner, Alexandria Real Estate Equities Inc.
"My experience with the Hakkasan team has been nothing but first class, and I look forward to helping build a major international hospitality company," Brennan said in a statement when the acquisition was announced.
International Presence
Hakkasan Ltd. was founded in 2001 and operates several fine-dining Cantonese restaurants and other dining concepts in the U.S., Europe, Asia and the Middle East. Last year it debuted Hakkasan Las Vegas, a 60,000-square-foot nightclub at MGM Grand Hotel & Casino on the Las Vegas Strip.
The acquisition of Enlightened comes as the U.S. restaurant industry overall is enjoying a continued boost from rising consumer spending in the post-recession era. While full-service restaurants generally have not seen a rebound as robust as that of national fast-casual chains, the upscale full-service category has been faring better than midpriced family restaurants.
According to the National Restaurant Association, total U.S. spending at restaurants and other food-service venues was expected to reach $660.5 billion by the end of 2013, an increase of 3.8 percent over 2012. The trade group had not released its 2014 forecast at press time.
Enlightened Hospitality has seen its share of ups and downs since its founding. Last year it closed its Burlap in Carmel Valley after disappointing results, converting it to the company's flagship Searsucker brand, and it shuttered its Gingham eatery in La Mesa.
During the past two years, the Searsucker concept, which started in the Gaslamp Quarter, was expanded to Austin, Texas, and Scottsdale, Ariz. The Scottsdale location was recently closed, however, along with the company's Gabardine in Point Loma.
Hakkasan has earned Michelin stars for its two London Hakkasan restaurants, as well as its New York City location. It also operates restaurants in the Los Angeles and San Francisco markets, as well as Miami, Abu Dhabi, Dubai, Mumbai and Qatar, with a Shanghai opening set for early 2014.
Since their debuts, Searsucker and Herringbone have made it onto national "Hottest New Restaurant" and "Top 100 Hot Spot Restaurant" lists, compiled by organizations including restaurant guide Gayot and reservation systems provider OpenTable Inc.