TECH: TRANSPOWER WORKS ON TRANSPORTATION AND HARVESTING ENERGY
Electricity Is in the Air as Company Finds Ways to Put Power to Use
Saturday, January 18, 2014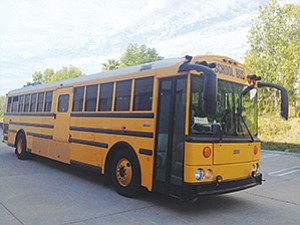 The yellow school bus plying the streets of the Poway Business Park on a recent Friday afternoon was unusually quiet — and it wasn't because it carried a handful of adults rather than a gaggle of grade-schoolers.
A Poway-based company had re-equipped the bus with electric drive. Compared with a stock diesel bus, this 2008 Thomas Built Safe-T-Liner whispered as it accelerated.
The conversion took place a short distance away at TransPower. The business on Danielson Street, owned almost entirely by CEO Michael Simon, assembles innovative battery-powered propulsion systems that move trucks and trains — and it may be taking baby steps toward shaping the future of heavy-duty transportation.
One possible market is schools. School buses offer relatively short routes, and they have the advantage of being idle at midday when they can recharge, TransPower officials said.
Another possible market is drayage, where trucks haul shipping containers a short distance between two points, such as a seaport and a warehouse. Privately held TransPower has converted such trucks to electric power.
Not all of TransPower's projects roll. Some are part of the transportation infrastructure. TransPower (the company's full name is Transportation Power Inc.) is working with authorities in New York to harvest the energy generated by the motors on subway cars as they brake to a stop. Under the plan, the screeching subway cars would send electricity into the electrified third rail. The juice would be routed through some innovative electrical gear into batterylike devices at a power station near Manhattan's 43rd Street. Those batteries could supplement grid power, saving the transit authority $100,000 to $200,000 yearly, Simon said. They could also provide backup power to move subway trains in the event of a power failure.
Simon said he wants to complete the first phase of the subway project by June. That initial project will be worth more than $1 million. New York City Transit is expected to pay for the work — eventually. Until then, "I'm having to borrow a ton of money to make it happen," said Simon.
Government Support
TransPower gets most of its funding from governmental entities — federal, state and local. It received funding to develop its electric drayage truck from the U.S. Department of Energy, the California Energy Commission, the South Coast Air Quality Management District, and the ports of Los Angeles and Long Beach. California has an "aggressive" renewable energy program, Simon said.
The executive said that TransPower prefers to work on small projects and is profitable. Revenue grew from $2.7 million in 2012 to about $4.5 million in 2013. Simon predicted the company will have $8 million in revenue this year.
The business employs 21 people, many of them electrical, mechanical and software engineers who convert the vehicles and produce components.
As Simon led visitors on a tour of his shop, he held up a building block of TransPower's energy storage system: a battery slightly larger than a brick, with a vertical string of Chinese characters embossed on the side. A typical vehicle coming out of the TransPower shop has $80,000 in batteries, Simon said. The lowest-cost high-energy batteries come from China, he added. If TransPower were to buy from a U.S. supplier, he said, the cost of its products would be double.
TransPower's local partners include EPC Power Corp., also of Poway, which makes power conversion electronics. General Atomics, one of Simon's former employers, has also worked with TransPower. Simon's resume also includes co-founding ISE Corp., an electric and hybrid vehicle company that was based in Poway. He stayed at the business until 2005. ISE filed for bankruptcy in 2010; a Belgian company called Bluways bought many of its assets at auction in early 2011.