FINANCE: PRIVATE INVESTORS PUT UP CASH; DEALS DONE QUICKLY
Small Businesses Can Bank on Dealstruck's Lending Platform
Saturday, January 11, 2014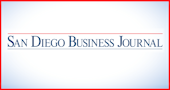 Despite doubling its revenue in recent years, Z-ray Technologies Corp., a San Diego-based Internet service provider, was having cash flow problems and needed a credit line to tide it over.
"When you're doubling in size every year, it puts huge pressure on your cash flow," company owner Jake Hansen said.
But when Hansen sought help from his bank, he was turned down. The company couldn't even get a $10,000 loan for a new service vehicle, he said. Because his personal credit history had been dinged in the recession — he did a modification to his mortgage — most lenders wouldn't touch the request.
Fortunately for Hansen, he found an answer to his problem through Dealstruck Inc., a 1-year-old business that matches fast-growing small companies with individuals who lend money at rates higher than banks charge but lower than what some alternative financing companies charge.
Hansen said the 11 percent rate he pays for the $100,000 he borrowed is well worth it.
"It was definitely more expensive than a bank loan, but it happened in two days," he said.
Tech-Enabled Access to Financing
Ethan Senturia, Dealstruck's co-founder, got the idea for the startup after leaving an Internet marketing company he was at for a few years. A graduate of the Wharton School at the University of Pennsylvania, Senturia wanted to marry his love of financing with a high-tech delivery channel to provide better access to financing for small companies treated as outcasts by traditional lenders.
While enrolled in a startup leadership program here last year, Senturia met Russell McLoughlin, who was also "in between jobs."
"He was a free agent who had just left a startup that couldn't get financing, and as we got to know each other, we just decided to join forces," Senturia said. "He's a brilliant computer scientist."
Senturia said Dealstruck doesn't compete with banks, but rather with alternative lenders, such as merchant cash advance businesses or factors, both of which often charge much higher rates for borrowed money.
"We're looking at working with businesses that are not quite at the bankable level. The banks can't make the loan to them from a legal standpoint or they won't make it because it's not profitable for them," Senturia said.
Guidance From Dad
The fledgling business got some ink and notoriety after winning the "best pitch award" at the San Diego Tech Coast Angels Quick Pitch Competition and reaching the semifinal round in the San Diego Venture Group's Pitchfest contest.
It didn't hurt either that Ethan Senturia's father is Neil Senturia, a longtime San Diego-based venture capitalist who is one of Dealstruck's three directors.
"He may have a little more guidance than your average old man," Ethan Senturia said about his dad.
Dealstruck raised about $1.5 million initially from a group of accredited investors who can prove their net worth is at least $1 million or have annual income of at least $200,000. Just like the businesses seeking funding, the investors are vetted carefully to determine that they can assume the risks, Senturia said.
While he declined to provide dollar amounts for competitive reasons, Senturia said fundings so far are "in the multiple millions." The cost for the loans, ranging from 12 to 36 months, is about 7 to 8 percent on the low end to the high teens on the top end.
Lending to Those on the Way Up
Investors are generally putting up at least $5,000 for loans ranging from $50,000 to $250,000 and averaging about $100,000. Most loans involve about 10 investors, Senturia said.
Many of the investors are former and current business owners, entrepreneurs and financial professionals who not only seek higher returns than they can get from more conservative assets but who also want to provide capital where it can do a lot of good, Senturia said.
One local business owner in the health food industry said he borrowed $70,000 from Dealstruck over 24 months at 12 percent annually. The owner, who asked not to be named, contacted a couple of banks where he had relationships, but they rejected his request after looking at the business's books, saying he didn't qualify.
The business, launched last year, is on a rapid growth curve and needed funds to continue expanding.
It's exactly the type of business Dealstruck likes, Senturia said.
"The common thread to our borrowers is they are on an upward trajectory, and they're not spiraling down," he said.