TECH: QUALCOMM JOINS OTHERS IN PURSUIT OF THE AUTOMOBILE PLATFORM MARKET
CES Exhibits Mobile Devices With Speeds in Miles Per Hour?
Saturday, January 11, 2014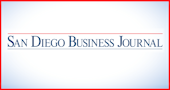 Long before it fell in love with computer technology, America fell in love with the automobile. And it is still carrying a torch, judging from exhibits at CES, the annual consumer electronics show in Las Vegas.
Along those lines, Qualcomm Inc. made several announcements that had to do with autos. And at least one company publicist wrote about the "3,000-pound mobile device" — one that needs oil changes and occasionally four new tires.
Company representatives talked about a world where the car is almost like a mobile device.
The connected car might offer the driver the benefit of computer-generated maps that appear to be three dimensional. It might offer Internet radio and — for those in the back seat — video. What's more, backseat screens in the connected auto could show 3-D games, with riders controlling the action with their smartphones. The connected car would also have cameras and might even have face-recognition technology.
Snapdragon on Board
Qualcomm Inc. (Nasdaq: QCOM) used CES to introduce a processor from its Snapdragon line that is specially tailored for the connected car. It would be at the heart of an auto's onboard information and entertainment system — aka the infotainment system.
The Snapdragon 602A will have a four-core central processing unit, a specialized processor for graphics and cores devoted to high-performance audio, video and communications. Qualcomm plans to pair the 602A processor with communications chips in several flavors: 3G, 4G LTE, Wi-Fi and Bluetooth. Qualcomm said the platform was not yet available but that it planned to make samples available to interested parties during the first quarter.
Qualcomm blogger Anthony Eng noted that auto components must be tough. They have to stand up to temperature extremes. And they should be built to last, since Americans typically keep their cars for more than 10 years.
Qualcomm also said that it had teamed up with Ottawa, Canada-based QNX Software Systems Ltd. — part of BlackBerry Ltd. (Nasdaq: BBRY) — to display the first in-car infotainment system powered by a Snapdragon processor and associated communications chips. The QNX reference vehicle on display was a Jeep Wrangler. Among the things that Qualcomm's Canadian partner brings to the table is its QNX operating system and an aptitude for software integration.
In unrelated news, Qualcomm showed off its electrically powered Formula 1 racecar to those attending the Las Vegas show. The company is working toward the day when such cars can be recharged wirelessly.
Other companies at the 2014 CES show had automotive announcements.
AT&T Inc. (NYSE: T) said it had entered an exclusive, multiyear agreement to provide wireless connectivity for Tesla Motors Inc.'s (Nasdaq: TSLA) line of high-end, battery-powered automobiles. The telecom company also announced that it was offering a connected car platform called AT&T Drive.
Other News From CES
Qualcomm showed off the AllPlay smart media platform for wireless home audio, which is now commercially available. And the company rolled out the Snapdragon 802 chip for smart TVs and set-top boxes. Qualcomm promised samples early this year and said it would be in commercial devices by the end of 2014.
Sony Electronics, which has its U.S. headquarters in Rancho Bernardo, presented several new options for consumers. Televisions included Ultra HD — that's ultra-high definition — models with four times the resolution of the popular high-definition TV. The new so-called "4K" models include 65-inch and 85-inch screens.
Also displayed were still and video cameras offering the ability to capture high-definition images.
Sony's (NYSE: SNE) Vaio computers included a compact, 11-inch "flip PC" that can switch between laptop and tablet modes. As part of the springtime new model release, the computers will be loaded with Photoshop Elements 12 from Adobe Systems Inc.