Deadline for Nominations for Business Journal's Top Real Estate Deals Awards Is Jan. 10
Monday, January 6, 2014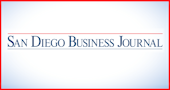 The San Diego Business Journal will close nominations for its annual "Top Real Estate Deals Awards" on Jan. 10.
The program pays tribute to the multifaceted and complex process of property development from the initial funding stages to grand opening. A special recognition and awards reception is slated for Feb. 13, at Paradise Point Resort and Spa.
The Journal will also publish a supplement Feb. 24 featuring outstanding projects and individuals in several categories as well as an overall "Best Deal of the Year" winner. Nominations are open to architects, contractors, developers, brokers, and others in the real estate community to highlight their most impressive accomplishments of 2013.
Title sponsors for the program are Cox Business and Wells Fargo. Tickets are available for the awards event. To nominate or order tickets online: http://www.sdbj.com/bizevents/
SDBJ Staff Report