PRODUCTION: SECTOR STILL SEEING DROP IN EMPLOYMENT
Some Manufacturing Is Homeward Bound
Saturday, January 4, 2014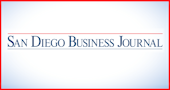 San Diego County sustained a 12-month net loss of 2,000 manufacturing jobs as of November 2013 — a similar loss to what the region sustained about a year ago — leaving it with about 91,500 such jobs, according to the most recent unemployment report for San Diego.
But while the trend is disturbing, there are some developments that are adding jobs here, said Michele Nash-Hoff, president of ElectroFab Sales and an advocate for retaining manufacturing in this country.
Given the effects of sequestration and the continued decline in lower-skilled manufacturing to cheaper labor markets outside the country, the net job loss is not a surprise, Nash-Hoff said.
Nevertheless, a bunch of companies are creating jobs in the defense and medical device sectors, and more companies are bringing back work that had been exported to China and other Asian nations, she said.
It's happening across the board in a variety of industries, and usually involves suppliers to much larger companies that are realizing that outsourcing to foreign countries sometimes is more expensive than domestic manufacturing, Nash-Hoff said.
D&K Engineering — a contract manufacturer in Rancho Bernardo for the likes of Cymer, Hewlett-Packard Co. (NYSE: HPQ), Delta Design and Illumina Inc. (Nasdaq: ILMN) — said its revenue grew by more than a third last year as more companies shifted back work that had been done overseas. EcoATM, for example, a San Diego maker of automated kiosks that accept unwanted wireless devices in exchange for cash, shifted its manufacturing from China to D&K a few years ago.
As D&K's workload expanded, so did its workforce. The business said it went from about 60 workers in 2006 to about 235 as of the end of September.
The majority of San Diego's manufacturers are nothing resembling the big aerospace corporations that dominated this region through the early 1990s, when an earlier recession took hold here. Local manufacturers today typically make a variety of products, have fewer than 50 employees and are part of larger supply chains to bigger companies. And many of the customers they're providing parts to tend to avoid publicizing these arrangements because doing so might mean admitting they made a mistake by outsourcing the work a few years ago, said Jo Marie Diamond, CEO of the East County Economic Development Council.
"The reasons it's being brought back have to do with quality [of the products], being closer to the engineering and development process, and the increased costs," Diamond said.
Large Manufacturers Still Around
San Diego still retains a few major manufacturers such as General Atomics Aeronautical Systems Inc. and Solar Turbines, each of which counts more than 4,000 employees in the county. Northrop Grumman Corp. (NYSE: NOC) — like GA-ASI, a maker of military drones — has some 4,000 employees here engaged in engineering and development of drones that are made in Palmdale.
Two other companies maintaining staffs of more than 2,000 employees are General Dynamics Nassco, with about 2,800 involved in ship building and repair, and United Technologies Corp. Aerospace Systems-Aerostructures, with about 2,300. The latter business, formerly owned by Goodrich Corp., makes parts and systems for commercial and military aircraft and counts Boeing Co. (NYSE: BA) and Airbus as key customers.
While corporate mergers continue to alter the local manufacturing landscape, occasionally new owners make it clear they intend to retain and grow the local operation. That was the case when Cymer, a maker of laser equipment used in manufacturing semiconductors, was acquired in May by ASML Holding NV (Nasdaq: ASML), a Dutch company. ASML said it intended to grow the business and expand its global workforce of about 1,300, including 900 in San Diego.
Often, however, the acquisition of a local company by a larger entity results in the acquirer taking the technology and consolidating operations, causing more unemployment.
Higher-Skilled Workers Needed
While the area's overall manufacturing employment continues to decline, the total value of goods made here has steadily increased, which has positive impacts, said Kelly Cunningham, economist with the National University System Institute for Policy Research.
"It's fewer jobs, but we're producing more expensive things, so there's economic growth that's occurring from that," Cunningham said.
While the region will likely see more losses of lower-skilled manufacturing jobs, the manufacturing that stays here requires higher skills. Recently, employers have had difficulty finding qualified workers for this work, Nash-Hoff said.
To resolve the imbalance, the area has seen the launch of a few training programs at local community colleges and high schools aimed at training machinists to fill newly created slots.
Elected officials, policy creators and other planners are finally waking up to the fact that retaining manufacturing work is essential to the area's economic recovery, Nash-Hoff said.
"Each manufacturing job creates an average of 2.5 other support jobs, so San Diego's manufacturing industry is directly or indirectly responsible for about one-third of San Diego's jobs," she said.