MEDICINE: SEISMIC SHIFT OF REFORM IS ON ITS WAY
For Health Care, 2014 Is a Work in Progress
Saturday, January 4, 2014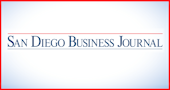 The Affordable Care Act will bring sweeping change to health care in 2014 in San Diego and across the country, as providers and consumers adjust to the new norm of a wildly changed health economy. And health reform is not the only big change occurring in the sector likely to see further consolidation, as consumers become more empowered about their health care choices and the industry's technological advances continue at a rapid clip.
"I think some of the trends that have been picking up steam over the past few years will really go full force in 2014," said Steven Escoboza, president of the Hospital Association of San Diego and Imperial Counties.
The health care sector is waiting with bated breath to see whether Covered California — the state's health insurance exchange — and health reform in general will be able to meet all the milestones it sets for itself, Escoboza said.
Tom Gehring, executive director and CEO of the San Diego County Medical Society, is not optimistic about the rollout of the Affordable Care Act.
"I think we will have a period of great turmoil in the first six months — and potentially longer — as the whole ACA implementation with Covered California comes into play," he said. "But there are so many variables that prognostication is probably futile."
Transparency and Outcomes
In 2013, the realities of health care cost disparities came to light as the government released data showing billing information from hospitals across the country. The data showed staggering cost differences among the country's top 100 most common inpatient procedures. For example, the average covered charges for hip and femur procedures ranged from about $41,000 to $118,000 in San Diego. The same procedures ranged from $13,000 to $57,000 in Akron, Ohio.
The data has excited the already contentious health care debate as the country casts a keen eye over medical billing practices, and this will continue in full force in 2014, Escoboza said.
"There will be continued emphasis on price transparency," Escoboza said. "And I think this will help lead to operational improvements that will help hospitals gain efficiency and cost savings this year and beyond."
For 2014, health care providers will continue to focus on quality outcomes, particularly patient safety and patient satisfaction, Escoboza said. Sharp HealthCare, Tri-City Medical Center and others have formed accountable care organizations, or ACOs, in San Diego in the past few years to help prepare for 2014.
"In general, the delivery system in San Diego is primed, and the enrollment and eligibility processes are all in place for 2014," Escoboza said.
Consolidation to Continue
Providers will be under tremendous pressure due to lowered reimbursement rates and increased patient volume from health insurance exchanges, said Mitch Morris, vice chairman and U.S. health care provider leader for Deloitte Consulting LLP.
There will be continued consolidation in the industry — with large systems growing larger, with strong physician alignment. This can be seen in San Diego, where hospital systems like Sharp HealthCare and Scripps Health are continually acquiring smaller physician practices and even adding new hospitals to their networks.
"No one knows how big a health system needs to be to survive in this new marketplace, but the days of standalone hospitals likely are numbered. Many of them are under considerable stress," Morris said.
For example, Scripps Health recently announced it may acquire El Centro Regional Medical Center, a 161-bed hospital that's been shopping for a buyer since May. The El Centro hospital, which is about 112 miles east of San Diego, would be Scripps' sixth hospital — and its first outside San Diego County.
"It's a challenged system, being out in the desert," said Scripps Health CEO Chris Van Gorder. "Its payor mix is facing some difficulties, but that's why they need to reach out and join a larger health system."
And, importantly, technology will continue to play a greater role in health care, redefining the way medicine is practiced. Some San Diego companies are pairing with area hospitals to integrate technology with day-to-day health care — a practice that's reflective of a nationwide trend. Social media and mobile health applications will continue to build in importance in 2014, according to a report from PricewaterhouseCoopers LLP, as consumers become more accustomed to communicating with their physicians digitally and logging health information regularly through smartphones, tablets and medical devices.
"The focus is on wellness and prevention under the ACA," Escoboza said. "I think we'll see this proliferate in 2014 as consumers become more technologically savvy and understand the importance of preventative care."