TECH: PLATFORM PROVIDES FASTER CONTROL FOR TARGETED MARKETING CAMPAIGNS
Tealium's Tag-Management Tools Simplify Use of Website Data
Friday, February 21, 2014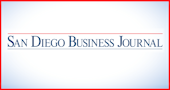 The ability for companies to gather data from people visiting their websites has enabled them to know their market better than ever, yet culling and using the potentially endless supply of data can overwhelm those who seek it.
Tealium, a San Diego-based digital marketing technology company, is helping companies solve that problem by developing tools to organize, deploy and edit segments of code, called tags, that enable third parties to track and analyze data from viewers. Tealium executives said the company's tag-management products can help companies deal with large amounts of data that they might otherwise be unable to interpret and use effectively to improve their online presence.
Among the key aspects of Tealium's tag-management product, Tealium iQ, is that it empowers marketing personnel to deploy or retarget online marketing campaigns without having to wait for information technology personnel to place tags.
"Waiting for IT to deploy this code puts a strain on marketing and inhibits their ability to act fast," said Erik Bratt, Tealium's vice president of communication.
Client companies use Tealium's products — which include AudienceStream, launched in September — to increase speed and agility and help marketing teams. Reducing the number of tags on webpages enables companies to improve website performance. Meanwhile, companies can boost revenue by having marketing teams launch campaigns faster and easier, Bratt said.
Tealium's AudienceStream, described as an audience segmentation and digital data distribution platform, "lets organizations take the control of their data to the next level and start building a personalized marketing experience for their users across channels," co-founder and President Ali Behnam said.
"We're very excited about the prospects of AudienceStream," Behnam said.
In the Market for Marketers
Tealium — founded in 2008 by former WebSideStory executives Behnam and Mike Anderson, who is Tealium's chief technical officer — was listed recently by Forbes magazine as one of America's Most Promising Companies for 2014.
Behnam and Anderson, who had a consulting company that helped major brands manage tag implementation, observed the difficulty customers went through. They saw a better, more efficient way to build the architecture. Tealium's technology, Behnam said, helps marketing become much more agile and enables IT to concentrate on strategic initiatives.
"We've known all along that this is primarily a marketing challenge," Behnam said. "While others tried to build solutions that appealed more to developers, we created a solution that was designed for marketing and business professionals. The marketing teams have responded favorably to this."
As a result, during 2013, the company increased its revenue by 140 percent. It also more than doubled its global enterprise customer base. Tealium has experienced tremendous growth in six years and is relied on by clients on five continents, according to its website.
In 2013, Tealium welcomed new clients including San Diego-based Petco Animal Supplies Inc., along with Brussels Airlines, Cathay Pacific Airways, Harman, Hiscox Ltd., McAfee Inc., Party City Corp., Priceline.com Inc., Travelocity, The Weather Channel and Vodafone Group Plc.
Growing From Pains
Tealium's market is growing fast because "there's such a pain in the marketplace between marketing and IT and getting these data-collecting tags on the site," Bratt said. "If you talk to any digital marketer who's relying on these solutions to generate results from the site, they instantly identify with the problem with having
to go to IT and get these tags deployed."
The company prides itself on its relationships with its customers.
"One of our mandates from [CEO Jeff Lunsford] is making sure we are fanatical about customer success," Bratt said.
Meanwhile, the company has been able to generate financing. It received $10.5 million in Series B financing from Battery Ventures and $15.6 million in Series C financing from investors such as Tenaya Capital, Battery Ventures and Presidio Ventures, according to Tealium's website.
It also is adding employees as its products succeed; it has about 160 worldwide, Bratt said.
Madeline Ottilie is an intern at the San Diego Business Journal.