ENERGY: CONSTRUCTION MATERIALS, SUPPLIES ADDED TO CERTIFICATION EQUATION
New Version of LEED Adds Incentives for More Sustainability
Friday, February 21, 2014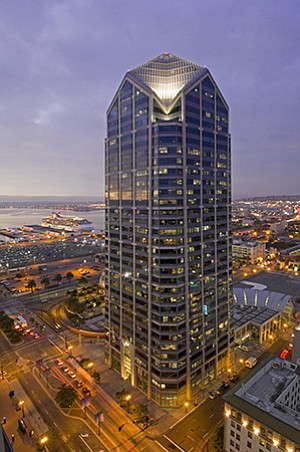 The national certification program that rewards green building construction is undergoing its own renovation, and California regions including San Diego County are expected to remain on the forefront of compliance with new reporting standards.
The nonprofit U.S. Green Building Council late last year rolled out LEED Version 4, the latest iteration of its 10-year-old Leadership in Energy and Environmental Design program. In the current program, building owners can garner one of four designations — certified, silver, gold or platinum — based on a 100-point scale that measures the energy efficiency of properties.
In the new program, owners will be able to score additional points by verifying that the materials and supplies that go into their buildings are themselves produced in sustainable fashion, including the use of recycling and other practices that limit pollutants and other negative impacts on health and the environment.
"It's more detailed in terms of calculating and documenting the environmental impact," said Douglas Kot, executive director of the Green Building Council's San Diego chapter. "It goes beyond how much energy the finished building itself is using."
Kot said building owners will be able to use the current LEED reporting system for an additional year, but the council is already seeing numerous local and global registrations under the new system.
He said environmental benchmarking has been streamlined to the point where material production practices and their impacts can be tracked and readily reported. Industry suppliers are on board for the system in which builders will be able to obtain statements from participating vendors verifying their compliance with the new standards.
Building Green Is Big Business
Data provider McGraw-Hill Construction has projected that green building projects could be worth up to $248 billion in the U.S. by 2016. Kot said suppliers see opportunities to differentiate themselves as construction becomes increasingly focused on sustainability on a global basis.
The Washington, D.C.-based U.S. Green Building Council recently reported that California placed fifth — tied with New York — among states based on per-capita square footage of LEED-
certified projects during 2013. Illinois led the nation, at 2.29 square feet of projects per state resident, compared with 1.95 square feet for the Golden State.
California by far led the nation for total LEED certifications, with 595 projects encompassing more than 72.7 million square feet in 2013.
City rankings for 2013 have not been released. San Diego as of 2012 ranked 10th among U.S. cities for commercial LEED projects either registered or certified; and 15th for buildings certified under the U.S. Environmental Protection Agency's Energy Star program.
The local region saw 94 LEED projects certifications in 2013, up from 91 in 2012. Of the 2013 certifications, 82 were nonresidential and 12 were residential.
The largest local LEED certification of the past year was for Irvine Co.'s One America Plaza in downtown San Diego, which is the region's tallest building. According to Green Building Council data, One America Plaza attained Gold certification for its 708,299 gross square feet and was among 14 Irvine Co. buildings certified in July — 10 gold and four silver.
Since the LEED program was introduced in 2003, the San Diego region had seen 985 projects registered and 414 certified as of year-end 2013.
Kot said local registrations have been steadily moving beyond commercial and government projects in recent years, especially as residential builders have moved to make apartments and single-family homes more electricity- and water-
efficient.