Pyramid Building in Miramar Sells for $13.6 Million
Thursday, February 20, 2014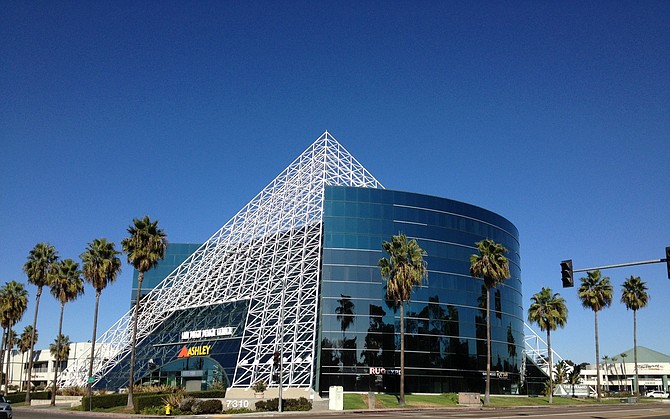 Alliance Diversified Holdings LLC, a San Diego-based private equity firm, has acquired the Miramar office property known as the "Pyramid Building" for $13.6 million, according to Voit Real Estate Services, which represented the buyer and seller.
The seller of the six-story building, located at 7310 Miramar Road, was Apex 1 & 2 LP, represented by Voit brokers Brandon Keith, Ryan Bracker and Bob Brady.
Voit Vice President Jon Boland, who represented Alliance Diversified, said the new owner plans to rename the 22-year-old property as The San Diego Innovation Center and reposition it as a "creative office and technology center." Alliance will invest in "cosmetic upgrades" to improve suites on all six floors.
The 131,218-square-foot building is known for its pyramid-shaped exterior structure. Its first floor has historically been leased to home-furnishing tenants, most recently an Ashley Furniture showroom that relocated last year to another building in Miramar.
Keith, a Voit senior vice president, said brokers will be scouting for technology, research and development, and medical office tenants. Boland said the owners are aiming to fill the ground floor with health and fitness, restaurant and other business-support tenants that would serve the building's other occupants.
According to CoStar Group, the property was built on 2.8 acres in 1992 and renovated in 2008. It was 18.7 percent leased at the time of the sale.
Alliance Diversified is led by President Ted Eldredge, who formerly worked at CB Richard Ellis (now CBRE Group Inc.) and Manchester Financial Group.