McCarthy Employees Are the Best Dressed for a Heartfelt Cause
Friday, February 14, 2014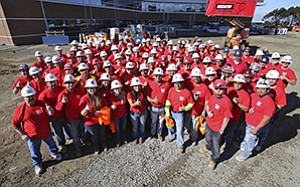 McCarthy Building Companies Inc. employees and subcontractors wore red on the first Friday in February in support of the American Heart Association's National Wear Red Day. The campaign is designed to focus attention on the number one killer of women: heart disease. McCarthy has been a strong supporter of the Association's efforts since 2004.
"Many people don't know that heart disease is the number one killer of women," said McCarthy Senior Vice President Bob Betz, who oversees the company's San Diego operations.
Carlsbad-based Daphne's California Greek has launched Spoon It Forward, a charitable program to support three Feeding America affiliates in Southern California. For every cup of its popular lemon chicken soup sold on "Souper Sundays" in February, Daphne's will donate the equivalent dollar amount to Feeding America San Diego, Second Harvest Food Bank of Orange County and the Los Angeles Regional Food Bank.
The Jewish Community Foundation selected three teens to receive the Peter Chortek Leadership Award for their extraordinary service, philanthropy and leadership. The recipients, Jacob Gardenswartz, Ari Krasner and Jenna Lizerbram, each received $3,600 and an additional $1,800 in a donor-advised fund at the Foundation to promote ongoing philanthropy. The award is supported by the Peter Chortek Youth Philanthropy Leadership Fund at the Foundation, established by the late Peter Chortek and his wife, Elaine, to foster Jewish communal involvement by recognizing Jewish high school students who practice the value of "Tikkun Olam," or repairing the world.
The San Diego Business Journal has a special connection to Jacob Gardenswartz, a senior at Francis Parker School, who won for his "Theater of Peace," which is a performance of short skits to educate students about bullying. The Business Journal's intern, Madeline Ottilie, who is also a student at Francis Parker told us that she works with Gardenswartz at "The Scribe," the school's newsletter, where he is the managing editor.
"I was just a kid sitting in an assembly listening to a lecture on bullying, and I remember being so bored, wondering when lunch was going to be and decided there has to be a better way to get this important message across," Gardenswartz said in a YouTube video about his award.
He got the idea to get together with other actors and to show students real-life examples of bullying rather than being told about it.
The Theater of Peace has performed more than 200 assemblies, reached more than 2,000 students across San Diego and raised thousands of dollars to spread the message about bullying. To see the YouTube video go to j.mp/jacobpeace.
The other two recipients were also impressive.
Krasner, a senior at University City High School, founded a campus club affiliate of Jewish Family Service's Hand Up Youth Food Pantry to promote awareness about hunger. Krasner has led participants to volunteer 450 hours and collected 1,500 pounds of food and hundreds of dollars. Project video: j.mp/arihandup.
Lizerbram, a senior at La Costa Canyon High School, created YouthJamz, which holds annual benefit concerts to start music programs for underprivileged children. Since 2010, YouthJamz's four concerts funded music programs for 800 children in San Diego, India and the Congo. Project video: j.mp/jennajamz.
Congratulations Jacob, Ari and Jenna.
Please email Kudos/Giving items to sglidden@sdbj.com.