Creating a Borderless, Prosperous Mega Region
Friday, February 14, 2014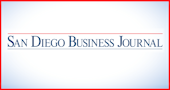 "The destinies of the U.S. and Mexico are inextricably linked."
"We should act as though the map doesn't have a border."
"We are a vibrant binational region that is one of the top emerging mega regions in the world."
These were the key takeaways from the first Cross-Border Visions for 2014 event held Jan. 31 by the Mexico Business Center, an arm of the San Diego Regional Chamber of Commerce. The event's high-energy crowd of more than 140 people and a dozen panelists and speakers embodied the special synergy felt when the two countries come together.
The event was particularly helpful in identifying top priorities for the Mexico Business Center as it continues to pursue its mission of promoting business between Mexico and San Diego, raising San Diego's business profile and strengthening our global competitiveness. This aligns perfectly with the chamber's third goal of its 2014 strategic plan: to be the primary champion of cross-border trade and collaboration and other traded economies, such as military-defense, tourism and innovation.
With a focus on developing and advancing domestic and international policies that enhance economic prosperity, seven specific priorities emerged as action items for 2014.
Legislation creating an enhanced driver's license program, using RFID technology, will authorize the Department of Motor Vehicles to approve the issuance of an enhanced driver's license as acceptable proof of identify. The legislation is expected to decrease border wait times by at least 30 minutes for the more than 40,000 people who cross the border every day and increase economic activity produced by efficient and secure cross-border travel. Enhanced driver's license legislation is currently being implemented in seven other states in the U.S.
Railroad Ties
Restoring the Cross Border Railroad between San Diego-Tijuana and Arizona-Tecate is another critical component to the growth of the California-Baja border region. More than 5,100 manufacturing plants are located along the US-Mexico border, including major industries such as chemicals, clothing, consumer durables, motor vehicles and tourism. This project will require significant collaboration and leadership at the city, state and federal levels, as well as from both sides of the border and the private sector.
We understand many of these issues require support from decision makers in Sacramento and Washington, D.C. We plan to work closely with the state of California's GO-Biz office to establish and operate an international trade relationship (California Assembly Bill 690) and office (California Senate Bill 928) with Mexico. Both pieces of legislation will dramatically improve trade and commerce between the two countries. The office will proactively support the expansion and location of businesses in California, provide international business assistance, support their entry in the international marketplace, and promote California and its businesses on a global scale. An official California-Mexico trade relationship will provide a formal structure and focus to the state's existing program and work to improve trade with Mexico.
Main Trading Partner
As California's main trading partner and largest market for exports, California needs to ensure that it can meet the demands for a transnational commerce system and grow its interdependent regional economy throughout the border region. In addition, the San Diego Chamber and Mexico Business Center are working with former state Sen. Denise Ducheny and state Sens. Ben Hueso and Lou Correa in drafting a commercial corridors legislation that would fund priority transportation projects at our land and seaports, such as the southbound truck route in Otay Mesa. This legislation will be introduced in the state Legislature later this month.
While we recently helped to secure $226 million in funding for Phase III of the San Ysidro Port of Entry, there is still more work to be done. The next step to ensure adequate border infrastructure at San Ysidro is to secure the remaining funding for Phase II. The Otay Mesa Commercial Port of Entry, the third-busiest on the US-Mexico border, also awaits an additional $161 million in funding. The proposed project would improve traffic circulation, add lanes for commercial vehicles, create 42,000 new jobs, and generate over $31.5 billion in revenue for the local, state and national economies.
Lastly, we must achieve legislation for comprehensive immigration reform. An efficient border is a safe border, and the focus must be on funding border infrastructure, border efficiency, and attracting and retaining top talent to our region and to the U.S.
Advocacy Trip
The San Diego Chamber and Mexico Business Center is dedicated to pursing and advancing these action items. From March 30 through April 3, we will host our seventh annual advocacy trip to Mexico City with the goal of cultivating relationships between the U.S. and Mexico, improving trade and border efficiency, and making the entire region more amenable to business and long-term economic development.
With a combined population of more than 6.5 million people, a 27,000-square-mile footprint, two major international airports, three land ports of entry and two major seaports, our binational region is poised for greatness. As many of the leaders highlighted during the Visions for 2014 program, we share a border, which means we share infrastructure — such as ports, rails, border crossings — but we also share tourists, businesses, products and people. These shared assets cannot prosper in competition. Collaboration is key to long-term growth and success.
The main takeaway, and one that will be the key to success, is that together the opportunities are endless. Together ideas like a binational university or binational Olympics are possible. Together we are a borderless mega region with unlimited potential.
Jerry Sanders is president and CEO of the San Diego Regional Chamber of Commerce and a former mayor of San Diego. Paola Avila is executive director of the San Diego Chamber's Mexico Business Center.