Local Median-Priced House Is $405,000 for January
Thursday, February 13, 2014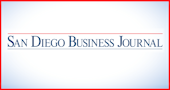 The median price for a single family house in San Diego dipped 3.6 percent in January from the prior month's median price to $405,000, said Dataquick, the La Jolla real estate research firm.
Over the 12 months, the median housing price was 16 percent above the median in January 2013 when it was $350,000.
Local single family home sales fell by 14 percent to 2,338 last month.
For the six-county Southern California region, the median priced house sold last month for $380,000, down 3.8 percent from December, but up 18 percent from January 2013
A huge drop off in sales occurred in the region, expected during the holidays, but the 14,471 houses sold was the lowest amount in the past three years, Dataquick said.
While the economy is growing, home sales have been down for the past four months, which could be a result of limited inventory. But higher home prices and a rise in mortgage interest rates could also be factors in the declines, said Dataquick CEO John Walsh.
"Two of the bigger questions hanging over the housing market right now are: 'How much pent-up demand is left out there,' and 'Will inventory skyrocket this year as more owners take advantage of the price run-up?'" Walsh said.
Those questions won't be answered until the spring, he said.