California Bank & Trust Reports Yearly Net Income of $140M
Thursday, February 13, 2014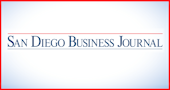 California Bank & Trust, San Diego's largest lender with nearly $11 billion in total assets, reported net income of $140 million for last year, up 10.2 percent from its net profit in 2012.
The bank, a subsidiary of Utah-based Zions Bancorporation, said the higher profits were mainly due from the bank growing its loan portfolio by $485 million, a drop in the amount of reserves it had to put aside, and reduced losses on securities sales, said CFO Eric Ellingsen.
"We had quite a bit of loan growth in the fourth quarter of the year, and we continue to benefit from the failed (bank) acquisitions that continue to perform better than our expectations," Ellingsen said.
CB&T acquired about $1.8 billion in assets from two bank failures in 2009: Alliance Bank and Vineyard Bank. As of the end of 2013 it held about $321 million from those banks.
The bank's loan growth was concentrated in commercial loans, and came from all of the bank's markets and across a wide swath of industries, Ellingsen said.
Loan charge-offs as a ratio of average loans fell to a minus .003, which means there were no losses and small net recoveries on its bad loans. Because of the portfolio's improved quality, CB&T withdrew about $17 million from its reserve balance, helping boost its profits.
Total assets decreased slightly over the year from $11 billion to $10.92 billion. Deposits declined by $156 million to $9.3 billion, compared with $9.5 billion in 2012.
Capital ratios all exceed regulatory minimums to be regarded as well capitalized with total risk-based capital at 13.65 percent, down from 14.18 percent at the end of 2012.
CB&T operates 95 branches in the state, including 25 in San Diego County.