Sempra Receives Conditional Approval to Export Liquefied Natural Gas From Louisiana Facility
Wednesday, February 12, 2014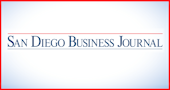 Sempra Energy received conditional authorization from the U.S. Department of Energy to export liquefied natural gas from the facility it is building in Louisiana, to countries with — and those without — a free trade agreement with the United States.
Sempra is proposing to build a $7 billion export facility in Cameron Parish, and has formed partnerships with GDF Suez, Mitsubishi Corp. and Mitsui & Co. to support the development and financing of the project.
According to the Energy Department, subject to environmental review and final regulatory approval, the facility will be conditionally authorized to export at a rate of up to the equivalent of 1.7 billion standard cubic feet per day of natural gas, for a period of 20 years
Sempra Energy (NYSE: SRE) is a San Diego based energy services holding company. In 2012, its revenues reached $10 billion. Its companies have nearly 17,000 employees and serve 31 million consumers worldwide.
Chairman and CEO of Sempra Energy Debra Reed, said that exporting natural gas will help lead to the creation of thousands of jobs and economic growth for the U.S.
Reed said that this project will be on track to be one of the first LNG export projects under construction in 2014 and in full commercial operation in 2019.