Economic Analysis Sees 'More of the Same' for Region
Tuesday, February 4, 2014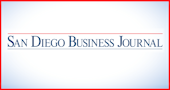 San Diego's economic growth this year will trail both that of California and the nation, according to an analysis by the National University System Institute for Policy Research.
The slowing rate of growth here is the result of higher taxes implemented nationally and statewide, cutbacks of military spending, which is particularly impactful to the region's heavy defense industry, and more fallout from the Affordable Care Act, said Kelly Cunningham, economist with National University System Institute for Policy Research.
"The pace of economic expansion remains stubbornly sluggish and recovery continues to be uncertain and frustratingly slow," he said.
For San Diego's gross domestic product, Cunningham forecasts an inflation-adjusted increase of 1.8 percent increase this year to $191.5 billion, compared with last year's GRP of $184 billion, up by 2.2 percent adjusted for inflation.
Net new jobs this year were forecast at 21,000, which is down from the 23,100 new jobs added last year. While the unemployment rate should continue to decline and is forecast to finish the year at 6.8 percent, job growth isn't keeping pace with the number of folks entering the labor force, Cunningham said.
"Much of the improvement in the unemployment rate results from shrinking numbers looking for work as from jobs being added," he said.
After a year which saw double digit increases in housing values for much of the county, prices were projected to flatten this year because of higher interest rates as well as stagnant employment and incomes, Cunningham said.
Summing up, Cunningham was mostly pessimistic.
"Overall, 2014 is not shaping up as a year of accelerating recovery but largely, and unfortunately, 'more of the same,'" he said. "Financial crisis takes longer to recover from than other downturns. … And San Diego faces the same headwinds it often experiences during downturns of defense spending."