Organovo Makes Its 1st 3-D Liver Tissue Delivery
Sunday, February 2, 2014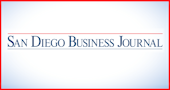 Organovo Holdings Inc., a San Diego-based company in 3-D bioprinting, performed its first 3-D liver tissue delivery, according to the company.
Organovo's (NYSE: ONVO) delivery was made to a laboratory outside the company for experimentation by "key opinion leaders." Key opinion leaders are experts in the field whose opinions will influence practice.
The company said the delivery marks the achievement of a milestone along the pathway to commercial launch of its 3-D liver tissue product.
"In developing these tissues, we have gone through a careful set of research studies involving many individual tissues, and greatly increased our ability to produce them," said Sharon Presnell, chief technology officer at Organovo. "By the end of January, we expect to have bioprinted nearly 400 3-D liver tissues during the month."
Organovo also introduced updated guidance on the timing of its product launch. Organovo said it had planned to launch its 3-D liver tissue product by the end of December 2014. It now expects to commence the commercial launch and start generating revenue through a services model prior to then.
SDBJ Staff Report