TECH: RULE CHANGE SHOULD OPEN UP NEW FOREIGN MARKETS
Opportunity, Innovation and Competition Grow In Space Sector
Wednesday, December 31, 2014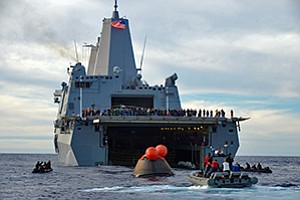 A federal government flush with money, pushing ahead in the space race, ever eager to fund research and development. That may have been the reality in the 1950s and '60s, but it isn't today, said Frank Bernas.
Bernas runs the Miramar-area plant of Alliant Techsystems Inc., a Virginia company better known as ATK. The local operation produces satellite bus structures and other aerospace products using lightweight, composite materials.
Today, federal spending is flat and composite products are "becoming more commoditized," said Bernas, the company's vice president and general manager. Competition is fierce; more companies are entering the market.
Still, there is opportunity.
One piece of good news, Bernas said, is that there is growth in the aircraft industry. Jetliner builders such as Airbus SAS and Boeing Co. (NYSE: BA) are using composites. Large composite structures are often made up of smaller composite structures, Bernas said, indicating that businesses such as his can serve as suppliers.
Bernas estimates that his business now does 60-70 percent space work and 30-40 percent aerospace work. The San Diego shop does about $100 million in revenue yearly.
Bernas' competitors are almost within a stone's throw.
Vanguard Space Technologies Inc., also in the Miramar area, turns out antenna reflectors and spacecraft structures, operating from a large facility with clean rooms and autoclaves of varying sizes. Frank Belknap, CEO of privately held Vanguard, talked up the service component of his business during a May interview.
Quatro Composites, which makes parts for Boeing's 787 jetliner and its InSitu drones, has a facility in Poway; it makes tooling there to produce its composite products in its factory and home office in Iowa.
Space electronics also has a firm foothold in San Diego. The county is home to ViaSat Inc. (Nasdaq: VSAT), which produces electronics for military and commercial satellite systems.
Growth is in the future of Space Micro, the Mira Mesa business that produces radiation-hardened electronics for space. CEO David Strobel said 2015 will include organic growth of at least 20 percent. Space Micro recently recorded $12 million in revenue and has 65 employees. In January, Strobel said, he's adding to that workforce.
Strobel also said his business might grow by acquisition.
Space Micro builds radios, competing in the market against L-3 Communications Holdings Inc. (NYSE: LLL) and General Dynamics Corp. (NYSE: GD). Space Micro also makes avionics, competing against BAE Systems and Honeywell International Inc. (NYSE: HON); as well as space navigation products, competing against Ball Aerospace, a unit of Ball Corp. (NYSE: BLL).
Strobel said his business works to capture market share from larger players.
"We're more affordable," the CEO said.
Both Strobel and Bernas said they might see more international business in 2015 with the relaxation of federal regulations that prohibit the export of U.S. technology.
Orion Project
Space flight got some sizzle in early December with NASA's test launch of the new Orion capsule, a Lockheed Martin Corp. (NYSE: LMT) product that eventually may take humans to Mars. San Diego was a stop on its journey.
The capsule lifted off from Florida on Dec. 5, splashed down in the Pacific Ocean off Baja California several hours later, and was retrieved by the USS Anchorage, a San Diego-based U.S. Navy ship that brought the capsule to the base at 32nd Street in its well deck. From there, NASA trucked the capsule to Florida's Kennedy Space Center on an eight-day road trip.
That may become a pattern when flights become more frequent.
But don't expect that to happen soon. Though the spacecraft resembles the Apollo capsule in many ways, the Orion program does not seem to be operating at the same pace as the 1960s-era moon shot. The Orion spacecraft's next test flight is scheduled for 2018.
ATK's Bernas said the Orion project appeals to him because it will push the limits on the capabilities of several systems, including avionics, structures and propulsion systems.
ATK's 60,000-square-foot San Diego plant is still fairly new. It was built in 2010, and one of its original purposes was to build bus structures — the structural cores of satellites. Today, Bernas said he is working to increase productivity and do more with less.
The local business grew from a standalone business called Composite Optics Inc., which ATK bought in 2003. The company is going through another transition, as ATK is combining with a second Virginia company, Orbital Sciences (NYSE: ORB), to form Orbital ATK. The merger is expected to be completed by February. As part of the transaction, ATK is spinning off its sports ammunition business.