Defense Contractor Chooses Vanguard to Make Reflector Antennas
Tuesday, December 30, 2014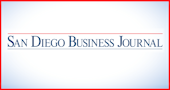 San Diego-based Vanguard Space Technologies Inc. said on Dec. 29 that Harris Corp., the $5 billion Florida defense contractor, has selected it to produce satellite antenna reflectors. Financial terms of the deal were not disclosed.
Vanguard will team up with Harris (NYSE: HRS) to produce fixed mesh reflector antennas, which Vanguard says offer technological advantages over other reflector types — and cut weight, or mass, by as much as 50 percent.
Harris will take charge of design, mesh installation and sales.
Paul Oppenheim, head of business development for Vanguard, said his company has been working to establish the partnership with Harris for three years.
Vanguard is based in San Diego's Miramar neighborhood and has 105 employees. Frank Belknap is CEO.