San Diego Private Bank Announces Completion of Acquisition
Monday, December 29, 2014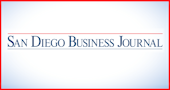 San Diego Private Bank announced Dec. 26 that it completed the acquisition of approximately $50 million in loans and the assumption of $8 million in deposits from First Security Business Bank. The deal was announced in October.
"We want to welcome our new deposit and loan customers and look forward to offering you a distinctly different banking experience at any one of our four branch locations — Coronado, San Diego, La Jolla and Newport Private Bank in Newport Beach," said Maria Kunac, president and CEO of San Diego Private Bank.
Kunac said First Security Business Bank will close its only office in Orange, Calif., following the transaction, and SDPB would be happy to meet with customers at their home or businesses to explain its banking services if the present branch locations are inconvenient.
In a previous statement, Selwyn Isakow, chairman of San Diego Private Bank, said the transaction is "meaningfully accretive to our earning in the first year."
San Diego Private Bank is publicly traded on the Over-the Counter Bulletin Board (OTCQB) under the ticker symbol "SDPB."