Sphere 3D Corp. Enters Agreement With Microsoft
Wednesday, December 24, 2014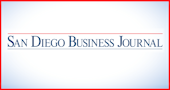 Sphere 3D Corp., which completed its acquisition of San Diego's Overland Storage earlier this month, said it entered into a multi-year agreement with Microsoft Corp. allowing the pre-installation of Windows embedded server software in appliances using Sphere 3D's Glassware 2.0 virtualization technology.
The agreement positions the company to simplify the deployment and management of purpose-built appliances for virtualization to customers, said Eric Kelly, Sphere 3D's chairman and chief executive officer.
Sphere 3D, based in Ontario, Canada, purchased Overland, a longtime provider of data storage systems, in a stock transaction valued at about $66 million.