Business Confidence Rose in November, Index Finds
Tuesday, December 16, 2014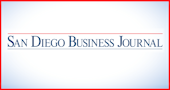 A Business Outlook Index for San Diego, a measure of local business confidence prepared for the San Diego Regional Chamber of Commerce, increased 2 points in November over the prior month to 26.8, led by a hefty rise from businesses in the cyber security industry.
The BOI for the cyber/IT and software industry here rose to 48.6, the highest among all industries. That was followed by advertising/PR at 41.8; health, beauty, fitness, 39.4; and press/media, at 39.2. The lowest BOI was in retail at 7.7, attributed to a sense that business conditions in this segment will continue to deteriorate, the report said.
The BOI for the county started out strong earlier this year and hit a high in February of 31.2, but tailed off in the spring and hit a low in July of 18.5. Launched last year, the BOI has a range of minus 100 to plus 100, and zero indicates a neutral outlook.
According to the BOI report, there was more optimism among local businesses last month based on their predictions of increased revenue, adding more workers, and providing more hours for workers.
While issues related to government remain a challenge, particularly the Affordable Care Act, only 17 percent of those businesses surveyed cited government as being a challenge. "This is partly the result of San Diego's minimum wage increase coming 'off the table' for the time being," the report said.