Median Home Price in November Was $430,000
Monday, December 15, 2014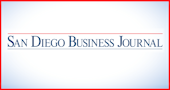 The median price for houses sold last month in San Diego County was $430,000, down 2.2 percent from October, but up 3.6 percent from November 2013, according to the most recent CoreLogic Dataquick real estate report.
Total sales in the county fell 11 percent over the year to 2,675.
For the six-county Southern California region, the median price in November was $412,000, up 7 percent from the same month one year earlier.
The median was still 18 percent below the peak median price house of $505,000, reached in April, May, and July of 2007.
The biggest annual gain in the median price last month came in San Bernardino where it rose nearly 17 percent to $255,000. The highest median price house sold was in Orange County at $585,000, up 4.5 percent from one year ago.
Cash buyers made up 23.9 percent of November's sales, up from 23.5 percent in October and down from 28.1 percent in November 2013.
The typical mortgage payment buyers in the region committed to in November was $1,560, down from $1,574 in October, but up from $1,517 in November 2013, CoreLogic Dataquick said.