Murata Electronics Completes $471 Million Purchase of Peregrine
Sunday, December 14, 2014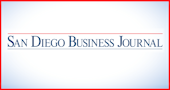 Peregrine Semiconductor Corp., the San Diego maker of chips found in wireless devices and networks, completed its sale to Japan-based Murata Electronics North America Inc. in an all-cash transaction valued at $471 million.
The acquisition announced in August pays shareholders of Peregrine Semiconductor $12.50 for each of their common shares, which was 63 percent premium on the stock's market price at the time of the announcement.
Founded in 1990, Peregrine makes radio frequency chips sold to some 1,500 manufacturers including such heavyweights as Sony, Boeing, Ericsson, Hitachi, Motorola and Murata itself. The buyers were Peregrine's biggest customer, and its purchases made up about 70 percent of Peregrine's revenue; Murata owned a minority equity stake in the business that went public in 2012 at $14 per share.
Peregrine said as a wholly-owned subsidiary of Murata it will continue to take its integrated radio frequency chips to markets including communications, industrial and aerospace.
"After years of a successful partnership, we're happy to become a part of the Murata team, the world's leading RF module and filter provider," said Jim Cable, Peregrine chief executive officer.
Murata Electronics' parent company, Kyoto, Japan-based Murata Manufacturing Co. Ltd., reported revenue of more than $8 billion last year. Peregrine did $63 million in revenue in 2013.