BIOTECH: DEHYDRATION DETECTION IS LEADING CO. TO OTHER TYPES OF SENSORS
'Sweat Equity'
Friday, December 12, 2014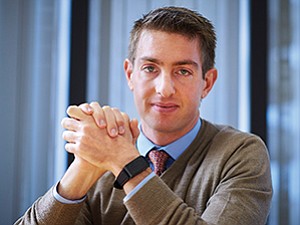 Electrozyme LLC, a local startup that has attracted the financial support of Dallas Mavericks owner Mark Cuban, has developed a technology for fitness-related wearable devices that will tell users when they are nearing dehydration — and what to do about it.
The company's founder and CEO, Joshua Windmiller, said that 75 percent of Americans are chronically dehydrated, which reduces physical performance and cognitive function.
"Outside of the performance arena, dehydration is the No. 1 cause of daytime fatigue," Windmiller said. "And in up to two-fifths of the population, the thirst mechanism is so weak it's often mistaken for hunger. You don't have to look very far to understand that proper hydration is an extremely important, yet poorly understood concept."
Know Sweat
Electrozyme's technology comes in the form of a biosensor that analyzes the chemicals in a person's sweat. The sensor collects data from the body and reports back to a mobile application or device in real time. The technology can warn the user when he or she is running low on electrolytes and when to take a break and rehydrate. It can even give a preemptive warning signal when the biosensor determines that the user may drop from heat exhaustion.
Founded in 2012, Electrozyme emerged from Windmiller's work with biosensors for his doctoral degree at the University of California, San Diego. The company received seed money from Cuban, as well as about $1.5 million in grants from the National Institutes of Health.
Windmiller and co-founder Jared Tangney, who also earned a doctorate from UCSD, are also working with a Fortune 500 strategic partner who Windmiller declined to name.
'Intel Inside' of Wearable Devices
Housed in EvoNexus, the technology incubator for the technology trade group CommNexus, Electrozyme is building a business model that plays to its strengths. Although the company has developed a wearable device and biosensor strips, Windmiller said original equipment sales are only part of Electrozyme's multitiered revenue model.
Instead of focusing solely on developing a fitness device that will compete with the big boys like Nike, FitBit and Jawbone, Windmiller said the company intends to license its hardware reference designs, algorithms and sweat analytics suite to major players in consumer electronics, sports and fitness apparel. Windmiller said the company is even entertaining the food and beverage domain for companies integrating the hydration and electrolyte-sensing capabilities in forthcoming products.
"Our goal is to become the 'Intel Inside' for wearables owing to the fiercely competitive nature of the hardware market and the shrinking margins that can be gleaned in this commoditized field," Windmiller said.
Beta products have already been released to the company's strategic partners, who are currently conducting field trials.
Windmiller said the company aims to have the first device powered by Electrozyme's biosensor technology on the shelves at retailers and popular online outlets by early 2016.
Makings of a Medical Device?
Windmiller said the company has big plans to augment the biosensing platform to identify and quantify other stressors on the body that limit physical performance. The platform will be able to assess metabolic rate, accurately track calories burned, and provide insight into the wearer's energy metabolism.
Once a scalable revenue model has been realized in sports, fitness and wellness domains, Windmiller said Electrozyme aims to expand into medical devices — especially in the fields of diabetes, geriatrics and dialysis.
The technology can also extend toward environmental monitoring and security applications.
"Our environmental sensors can be utilized to 'sniff' the air for pollutants and contaminants that could be harmful to one's health," Windmiller said. "In the same fashion, the sensors can be printed onto textiles to provide active security monitoring whereby the common constituents of improvised explosive devices can be actively sniffed from the air surrounding a soldier in the battlefield."
Electrozyme recently took home a trophy for innovation from Connect, a life sciences and technology business accelerator. The annual event honored one leading company in eight categories. Electrozyme took home the award for Most Innovative Product in the sports and active lifestyles technology category.