CONNECT Announces Winners of Innovation Awards
Friday, December 5, 2014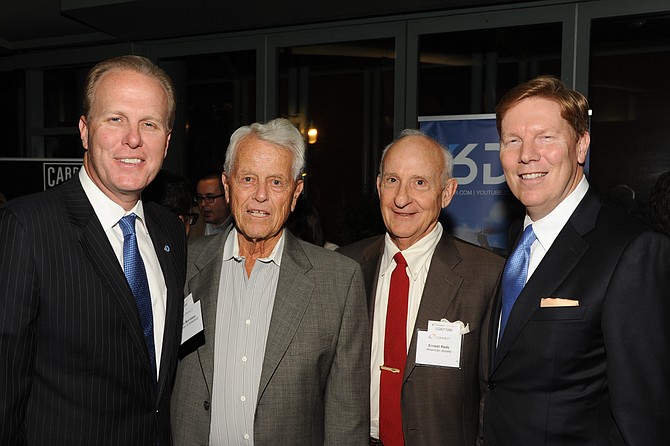 CONNECT, a San Diego-based technology business accelerator founded by the University of California, San Diego, held its 27th annual Most Innovative New Products Awards on Thursday.
The winners were announced at a sold-out awards ceremony attended by more than 700 business leaders, entrepreneurs, researchers and capital providers. Held at the Hyatt Regency La Jolla at Aventine, the event was led by Maureen Cavanaugh of Midday Edition on KPBS.
The 2014 MIP Award winners were selected after 100 judges reviewed and analyzed applications based on the company's performance since its inception.
The winners of the eight categories were as follows:
Aerospace and Security Technologies: CyberFlow Analytics Inc. for FlowScape.
Flowscape provides anomalytics (analytics of anomalies in big data discovered by machine learning) for the Internet of Things. It continuously analyzes billions of unstructured application and network traffic flows, and applies machine learning algorithms to provide real-time actionable intelligence for anomalous behavior. FlowScape detects anomalous high-risk threats as a cyber-security platform.
Communications and IT: Cubic Transportation Systems, Inc. for NextBus Fleet Management.
The NextBus Fleet Management application is a modular, mobile gateway for connecting passengers and public transit managers to real-time travel and operations information. This cost-effective and reliable application makes public transportation a viable and attractive choice for commuters.
Diagnostics and Research Tools: Organovo Inc. for exVive3D Liver Model.
exVive3D Liver model is functional 3D human liver tissue constructs consisting of multiple primary human cell types which are found in native human liver. The exVive3D Livers are created using Organovo's proprietary 3D bioprinting technology that results in tissues containing precise and reproducible architecture. They are intended to improve preclinical drug discovery programs.
Pharmaceutical Drugs and Medical Devices: Topera Inc. for Topera's 3D Mapping System.
Topera's 3D Mapping identifies the mechanism that sustains atrial fibrillation in arrhythmia patients. By helping physicians visualize and localize these precise sources the Topera System provides the essential information for excellent patient outcomes.
Mobile Apps category: Rock My World Inc. for RockMyRun. RockMyRun takes biometric data from smartphones and fitness wearable devices, and then adjusts the music you're listening to so that it matches your body, leading to increased enjoyment and improvement in performance by up to 20 percent while exercising.
Software: CloudBeds Inc. for CloudBeds. CloudBeds is an operating system for hotels where properties can manage their operations easily through online tools; distribute real-time inventory (rooms) to consumers and travel agents worldwide through popular channels around the web via two-way APIs; and increase a property's revenue while lowering its costs using learning algorithms that optimize a property's room prices, availability and back-office tasks.
Sport & Active Lifestyle Technologies: Electrozyme LLC for ProFit SE Real-Time Sweat Electrolyte Sensor. The ProFit SE Real-Time Sweat is the world's first personal hydration monitor capable of assessing fluid and electrolyte loss in a non-invasive, real-time fashion. The wearable product provides answers to three key questions: When is it time to rehydrate? What to rehydrate with? How much to rehydrate?
Sustainability: Solatube International Inc. for Solatube SkyVault Series. Solatube SkyVault Series employs advanced optics to deliver maximum daylight with minimal heat gain to large spaces with high, open ceilings. Modular components let designers spread light evenly, enhance light capture or control focus with one system.