Mitchell International to Acquire Cogent Works
Wednesday, December 3, 2014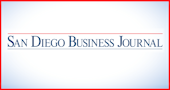 Mitchell International Inc., the San Diego provider of software serving the auto insurance and auto repair industries, said it agreed to acquire Cogent Works, a Utah-based business that specializes in processing property and casualty pharmacy prescription claims.
Terms of the transaction weren't disclosed.
Cogent operates both AutoRx and CompToday. AutoRx processes prescription claims for people injured in auto accidents while CompToday provides comprehensive pharmacy benefit management services on behalf of workers compensation payers.
Mitchell CEO Alex Sun said the combination of the two companies will simplify the claims process starting at the onset of injury, connecting pharmacies and payers through a network of retail pharmacies, creating better claim outcomes and improved services to the injured.
Mitchell, which was acquired by New York-based K.K.R. last year for about $1 billion from Aurora Capital, reported $358 million in revenue in 2013. It has about 2,000 employees, up about 300 from 2012.
Cogent, headquartered in Salt Lake City, has about 175 employees.