TECH: DEAL IS EXPECTED TO CLOSE BY EARLY 2015
Peregrine Purchase to Cost Murata $465M
Friday, August 29, 2014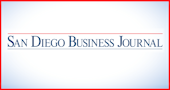 San Diego-based Peregrine Semiconductor Corp. is going under the wing of one its corporate allies, just two years after becoming a public company.
Murata Manufacturing Co. Ltd. of Japan announced Aug. 22 that it will buy the portion of Peregrine that it does not already own in a $471 million cash deal. Murata's net cost will be $465 million.
Murata offered Peregrine shareholders $12.50 per share, a 63 percent premium on a stock that closed the prior trading day at $7.69.
No Strangers
Peregrine and Murata already have a relationship. In 2013, Peregrine inked a collaborative sourcing and licensing agreement with Murata, which is based in Kyoto. Murata was also the customer that bought Peregrine's 2 billionth microchip, in October.
Murata, which reported about $8.5 billion in revenue during the recently ended fiscal year, makes electrical components such as capacitors, as well as communication modules.
Peregrine makes microchips for radio-frequency uses. Its silicon-on-sapphire manufacturing technology is one of several in the silicon-on-insulator category. Peregrine holds more than 180 filed and pending patents.
The San Diego business, founded in 1990, commercialized technology developed at the Naval Ocean Systems Center — the U.S. Navy lab on Point Loma that has since been renamed Space and Naval Warfare (Spawar) Systems Center Pacific.
Murata Electronics North America Inc., part of Kyoto-based Murata, announced that it entered into the definitive agreement to buy Peregrine shortly after 5 a.m. on Aug. 22. Peregrine shares rose 60 percent early that day on news of the potential sale.
The parties expect the deal to close by the end of this year or early 2015, subject to Peregrine stockholder approval, regulatory approvals and other customary closing conditions. The parties expect Peregrine to become a wholly owned subsidiary of Murata.
Peregrine went public in 2012, raising $77 million in its initial public offering.
The business reported a net loss of $4.1 million on net revenue of $202.3 million in 2013. The prior year, it reported net income of $2.8 million on net revenue of $203.9 million.
Following the announcement of the sale, about a dozen law firms issued press releases saying they planned to investigate the transaction on behalf of shareholders.