AVIATION: EDGE-TECH SUPPLIES MOLDS AND PARTS
Co. Plays a Part in New Plane Production
Friday, August 22, 2014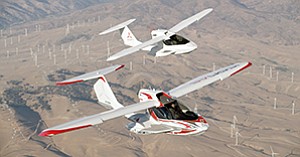 Edge-Tech Design and Manufacturing has a seat on Icon Aircraft Inc.'s sporty little A5 aircraft — and it hopes to see revenue take off if aircraft sales do.
The five-person business from Rancho Bernardo helped Icon make molds — or tools — for plastic interior parts and carbon-fiber parts for the aircraft's structure. Mold making and part design are specialties for David Corey, owner and president of Edge-Tech. Corey's business also served as a sounding board for Icon engineers who had to make other aircraft parts; the A5 includes 1,600 in total.
For now, the Los Angeles-based sport aircraft maker is Edge-Tech's biggest customer.
As the aircraft goes into production, other vendors will make the carbon-fiber and plastic parts, building on Edge-Tech's work. But Edge-Tech will still get business, since it plans to produce machined metal parts for the A5.
$189,000 Price Tag
Icon has reportedly taken more than 1,000 orders for the $189,000 aircraft, and it unveiled the first production model in late July at the Oshkosh, Wis., air show.
The little two-seat amphibious plane has folding wings. An owner can tow it on a trailer behind a pickup truck — just like a boat. Also like a boat, the A5 can be launched on a lake — and it can use the surface as a watery runway to take to the sky.
A 100-horsepower Rotax 912 engine powers the A5's rear-facing propeller. The power plant is similar to the engine that General Atomics Aeronautical Systems Inc. put into its original, carbon-fiber Predator aircraft.
Light Sport Aircraft
The Icon A5 is part of a relatively new class of vehicle that the FAA calls light sport aircraft. Sport pilots fly at lower altitudes and in uncongested airspace during the daytime.
The aircraft can land on a lake, and it also has wheels to land on a runway. If needed, it carries a parachute to bring its occupants gently back to earth.
Still ahead for the little aircraft is a round of testing with the Federal Aviation Administration, or FAA. Icon plans to deliver its first aircraft to customers in May.
It's the first aviation work for Edge-Tech.
Corey incorporated Edge-Tech in 2009 and went full-time with the venture in 2011. The business grew 50 percent this year, he said, and it now has roughly $1 million in revenue.
The business makes molds as well as plastic and metal parts. Customers include Aviva Biosciences, a local maker of medical testing equipment; Bingonomics, a Ramona-based company that produces electronic bingo player stations; K-Tek, a Vista maker of sound recording gear (including the wind screens for microphones at the end of long poles, dubbed "zeppelins" for their bulbous shape); and Sage Metering Inc., a Monterey company that produces gas meters for industrial clients. Sage Metering has the distinction of being Edge-Tech's first customer.
Edge-Tech also has a relationship with The UPS Store Inc., which is experimenting with 3-D printing services at certain retail outlets, including some in San Diego. UPS Store will refer customers to Edge-Tech if they want to take their projects further, Corey said.
Corey said the experience working with Icon got the Rancho Bernardo business on the radar of other potential customers. He also said that he is getting more domestic work as several issues — including currency exchange rates, labor costs and time zone differences — are turning U.S. manufacturers away from Chinese vendors.
Edge-Tech, which also has space in Riverside, plans to move its main office soon. Corey said he would like to stay in inland North County.
Icon — the aircraft maker — is also moving, planning to transfer its manufacturing from Tehachapi to an airport site in Vacaville, 50 miles northeast of San Francisco. Icon said in a statement that it will be near its Silicon Valley roots, and that the company plans to draw on the locale's entrepreneurial drive.