County Business Forecast Index Drops 8 Points in July
Monday, August 18, 2014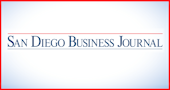 The San Diego Business Forecast, an index measuring the county's business outlook, showed a dramatic decline in July, falling 8 points from June.
The index at 18.5 is at the lowest point since it was launched last year. The previous low was 18.6 in October 2013. It has been as high as 31.2 in February.
The index sponsored by Silvergate Bank in partnership with the county of San Diego, and conducted by Competitive Edge Research surveys members from the San Diego Regional Chamber of Commerce and the East County Chamber of Commerce.
According to the report, more businesses are voicing concerns about employee workforce hours, with fewer saying they plan to add hours.
Those responding that they would cut employee hours have gone from 5 percent to 9 percent.
Last month's survey asked business owner respondents about the overall trend in California and San Diego, and found that the state is widely perceived to be heading down the wrong track, while the mood for San Diego is fairly positive.
However, business owners identifying minimum wage and taxes as challenges are projecting a bleak outlook for the next quarter, the report said.