OncoSec Medical Makes Appointment to Its Scientific Advisory Board
Wednesday, August 6, 2014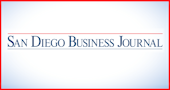 San Diego-based OncoSec Medical Inc., a biopharmaceutical company focused on cancer immunotherapy, has appointed Holbrook Kohrt to its scientific advisory board.
Kohrt is an assistant professor at Stanford Cancer Institute and currently investigates therapeutic strategies to enhance anti-tumor immunity. Kohrt attended Stanford Medical School as the Baxter Foundation Scholar, Howard Hughes Scholar and American Society of Hematology Research Fellow. During this time he developed, validated and nationally implemented a nomogram for risk prediction in early stage breast cancer.
OncoSec Medical (OTCQB: ONCS) is developing a therapy to treat solid tumors. The company's clinical programs currently include three phase two trials targeting metastatic melanoma, Merkel cell carcinoma and cutaneous T-cell lymphoma.
"We are extremely excited to have Dr. Kohrt join our scientific advisory board," President and CEO Punit Dhillon said. "Holbrook's background and experience will be invaluable as we not only move our ImmunoPulse program forward into a later stage of clinical development, but he and the rest of the SAB, will also be integral in keeping our intratumoral immunotherapy platform at the cutting edge of scientific advances."