Land Slated for Oceanside Apartments Sold for $25 Million
Wednesday, August 6, 2014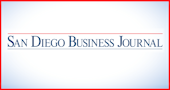 Locally based Presidio Cornerstone Master LLC has purchased a 28-acre land parcel in Oceanside for $25 million, with plans to develop a 338-unit luxury apartment community.
Called Terraza, the apartments will be built on the northwest corner of College Avenue and Old Grove Road, according to brokerage company Colliers International, which represented the buyer and seller, RDO Village Investment LLC.
Brokers said the property is the last remaining undeveloped residential site within the larger Rancho Del Oro subdivision. Colliers' Gunder Creager, David Santistevan and Ciara Layne-Trujillo handled the transaction.
The buying partnership includes two San Diego-based companies, Presidio Residential Capital and Cornerstone Communities. According to a recent statement from Presidio, the two firms are also partnering to build Tuscany Village, consisting of two communities totaling 212 single-family homes in Bakersfield.