Maxwell Technologies Inc. Reports Q2 Revenue of $46.1 Million
Sunday, August 3, 2014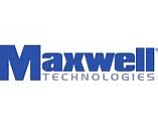 Maxwell Technologies Inc., the San Diego maker of energy storage and power delivery devices, reported second quarter revenue of $46.1 million, down 17 percent from $55.6 million in revenue in the like quarter of 2013.
The company said it took a net loss of $1.2 million in the quarter that ended June 30, compared with net income of $3.4 million for the like quarter of 2013.
Maxwell said its main product line, ultracapacitors, saw its revenue increase 6 percent from the first quarter to $33.9 million, but fell 9 percent from the second quarter of 2013.
CEO Franz Fink said it was a solid quarter despite lower ultracapacitor sales in China's hybrid bus market and challenging market conditions for its microelectronics products.
The company said while it's difficult to predict the sales of ultracapacitors to the Chinese market, total revenue for the third quarter will likely fall 15 percent from the revenue in the second quarter.
Shares of Maxwell, traded under MXWL on the Nasdaq exchange, slid by a bit more than a dollar as of midday Aug. 1 to $9.78. Its 52 week range is $6.75 to $18.73.