TECH: DEVICE CONNECTS HOSPITALITY BUSINESSES TO THEIR CUSTOMERS' ORDERS
Zingle Uses Your Texts to Help You Get to the Front of the Line
Friday, August 1, 2014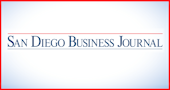 Making a call is OK but texting is better for business, said John Girard, who heads Zingle, a Carlsbad business built around texting technology.
"Texting takes less time than a phone call, plus a lot of our customers say their customers prefer texting," said Girard, named CEO in March.
Founded in 2010, the business provides a text-printer device to businesses that enables customers, primarily in the hospitality sector, to deliver their services to customers quicker.
Take Eddy Jabbour, the owner of Eddy M's Cafes, five lunch cafes on the ground floor of office buildings in San Diego, who's used the service for about four years.
Most of his customers are workers in office complexes and don't have much time for their lunch breaks, Jabbour said.
"It's a great convenience for my customers because they know they can text order for a sandwich, pick it up in a few minutes, and get back to work without waiting," he said. "We even have a special register for them."
Besides restaurants, a couple of other key verticals for the business are hotels and parking lots.
"There's tens of thousands of potential business customers in each of those verticals," Girard said. "This is a multibillion-dollar market."
From Frustration to Inspiration
Zingle's founder Ford Blakely, a 39-year-old former financial consultant at LECG in downtown San Diego, got the idea for the startup while having to wait in line for his daily jolt of java at a Del Mar coffeeshop before his commute to work.
"It was a bigger order, and sometimes it would take them 10 minutes to get," said Blakely, who admits he's an impatient person. He asked the manager if he could text his order ahead of time so it would be ready when he arrived at the shop, and the manager agreed.
"For me, it was a matter of solving my personal frustration," he said.
Blakely said texting technology was already available on most phones, but it wasn't being used much by businesses.
"I was asking why can't businesses benefit from the quality and the speed of texting," he said.
'Close to Breaking Even'
The basic product Blakely created with an engineering friend in his garage is a text receiver-printer that spits out the order with a date and time stamped. Blakely declined to reveal what he invested in the business or how much revenue it's generated.
The business has experienced a gradual increase in sales the past two years, with a stronger uptick in the past six months, Girard said.
"We're close to breaking even," he said of the company, which has about 1,000 customers.
Zingle's staff expanded slowly since its launch. It added six people last year and should add a few more by year-end to bring the total to 25.
"We could push it to 30 by early next year," Girard said.
Given the pervasiveness of SMS — or texting — technology, Zingle has competition from similar providers, but these tend to be small companies concentrated in a particular city; Girard's firm has national ambitions, he said.
Zingle opened a sales office in Atlanta and a support office in New York. The staffing is about evenly divided among operations, sales and technology positions, Blakely said.
Girard came on board this year when Blakely said he realized he needed someone to help him expand the business organically. The power of two is always greater than one, said Blakely, who retained the title of chairman.
"What drew me to Zingle was the idea of leading an exciting startup, with an already strong track record, to the next stage of growth," Girard said.
Getting to the Front of the Line
Girard, 42, co-founded Clickability, a San Francisco-based Web content management system, with two others in 1999 and became the CEO. Shortly before the company was sold to Limelight Networks in 2011, Girard left to form a consulting business, JG3 LLC, which worked mainly with software businesses.
One of the strong points that Girard brings to his job is his background in raising venture funding. He said that while at Clickability he helped raise nearly $20 million in capital. There's clearly an opportunity for Zingle to obtain venture funding down the line, but the company has no immediate plans to do so, Girard said.
The company's prospects today seem pretty strong, especially when service providers and customers realize the many benefits of texting, Blakely said.
"When you have the opportunity to go to the front of the line, it's a pretty powerful experience, … and it can get addicting," he said.
ZINGLE
CEO: John Girard
No. of local employees: 20
Headquarters: Carlsbad
Year founded: 2010
Revenue: Doesn't disclose