GroundMetrics Raises $2.73M in Funding Round
Wednesday, April 23, 2014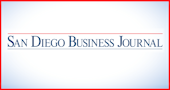 San Diego-based GroundMetrics Inc. — which offers technology services to the oil and gas industry — said that it raised $2.73 million in its series B funding round.
The business made the announcement on April 23 and said that some $1.3 million of that sum came from the San Diego Tech Coast Angels group, a previous investor.
Oklahoma-based Cowboy Technology Angels is a new investor in the company. Also participating were Crescent Ridge Partners, ACE Fund, the Harvard Business School Alumni Association and Peter Landin.
GroundMetrics plans to use the money to scale up infrastructure, increase its sales and marketing, and hire and deploy field crews.
GroundMetrics said its technology provides "unprecedented visibility" underground by taking electromagnetic images of the area below the surface of the Earth, and capturing high fidelity geophysical data.
The business noted that the United States is on track to become the world's top oil producer by 2015.
George Eiskamp is the CEO of GroundMetrics.