Nominations for "Best of the Bar" Close May 2
Monday, April 21, 2014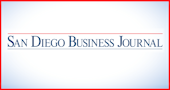 The San Diego Business Journal will soon be closing nominations for its inaugural Best of the Bar 2014 supplement. Nominations must be received by Friday, May 2.
The Journal has received an overwhelming response to this program which will showcase the top San Diego attorneys in private practice who have been nominated by their peers.

Nominees will be featured in a special supplement, publishing in the June 30 issue, which will provide a select resource of top legal services in the area.
For more information on specific nomination criteria, guidelines and nomination forms, click here.
Other questions or inquiries can be made to Audrey Marlow: AMarlow@sdbj.com
Entries will not be accepted after the May 2 deadline.