MARITIME: MARINE GROUP BOAT WORKS IS THRIVING, BUT UNCERTAINTY OF PLACE LOOMS
Turn of the Screw
Friday, April 11, 2014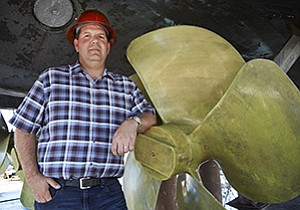 Todd Roberts sits in the pilot house of a 114-foot U.S. Navy boat that his workers just built, and mentally charts his course with a mixture of excitement and apprehension.
His enterprise, Marine Group Boat Works, is doing well and growing with new lines of business and bustling existing ones, but the Chula Vista neighborhood that hosts the business is changing. The city and the Port of San Diego razed a nearby power plant a little more than a year ago, and planners envision a hotel on the lot next to the boatyard — part of an ambitious makeover of the waterfront known as the Chula Vista Bayfront Master Plan. That plan envisions up to 3,100 hotel rooms, 415,000 square feet of meeting space, residential, retail, restaurants and more than 240 acres of parks and nature preserve.
With all those plans, Roberts wonders if there will still be room for his business in a redeveloped neighborhood.
If Marine Group has to follow the power plant in leaving, it could be the latest episode in a decades-long story where industrial sites on San Diego Bay fall to recreational or tourist uses. The Hilton San Diego Bayfront hotel downtown, for example, sits on land that used to be the Campbell Shipyard, which built a good portion of the city's tuna boat fleet.
The center of Roberts' concern is a clause in the company's land lease with the port district, which is the local governmental entity that controls the property Marine Group occupies. The clause in the 20-year lease says the port can ask Marine Group to move with two years' notice.
If such notice comes, moving the multimillion-dollar operation won't be simple.
"We're not moving a two-bedroom apartment here," said Roberts, who is president of Marine Group and one of four partners in the business.
The business sprawls across 15 acres. When an enterprise like his gets the order to move, the executive said, "you go out of business."
That two-year clause builds a good amount of uncertainty into his day-to-day activity, Roberts said, noting that he cannot pour $10 million into facility improvements and expect it to yield results in the long run.
He has to think short-term.
"You chug along," he said.
Good Mix of Business
2013 was a good year for Marine Group Boat Works. It had revenue of $41 million. It's blessed with several good revenue streams, enough for the partners to keep 170 employees busy at three sites: Chula Vista, National City and Los Cabos, Mexico.
Roberts talked about his future as he sat in an extra-high helmsman's chair in the workhorse boat that the company was about to deliver. It is an aluminum-hulled range training craft that Navy officials plan to use as a behind-the-scenes player during war games. Its crews will launch torpedoes, small drones and other simulated weapons to challenge sailors during training. The boat's crews will also tow targets and jam radios.
The craft is the last of a series. Marine Group was able to deliver four range training craft for $42 million.
Roberts said he laid out the pilot house as he would have preferred it, had he been the client. The Navy reportedly liked it.
The work at the Marine Group yard, Roberts said, is an even mix: one-third new construction, one-third super yacht repair, and one-third government and commercial work.
The yard does work on private yachts up to 265 feet long. Marine Group's six-story, 665-ton Travelift crane can hold yachts up to 220 feet long in a sling, pluck them out of the water and carry them to a spot on dry land, enabling crews to work on their hulls.
The business also does a significant amount of work on San Francisco Bay ferries. On a recent day at the yard, one ferry was getting $500,000 worth of engine repairs while a second was getting replacement engines, along with some hull preservation work. The latter job will cost upward of $18 million. Federal transportation funds subsidize work on the Northern California ferries.
"It's an emerging market for us," Roberts said.
National City Yard Not an Option
Marine Group also runs the former Knight & Carver boatyard in National City. Roberts said it's not a place where he would want to relocate. The site is smaller than the one in Chula Vista, and he said both boatyards are at 100 percent capacity. The site also has a quirk. A railroad easement cuts through the property in three places, so at any time, a train serving the auto terminal next door might occupy those tracks, walling off the boatyard into two areas.
Roberts has one more issue on his mind. He said local officials have voiced concerns about a 27,000-square-foot building on the Chula Vista site, where Marine Group builds new boats. Aluminum boats need to be assembled indoors, Roberts said, because wind can play havoc with the combination of gases needed to weld the metal.
The structure is very close to the water. Expanses of bay sit to the building's north and west, while a park sits to its south. Roberts said officials want the structure moved because it blocks views. He expects that doing so will cost $2 million.
Roberts said he would like his yard to coexist with the hotel planned for next door. But he said local politicians don't like the idea of keeping the boatyard on the site.
A spokesman for Chula Vista Mayor Cheryl Cox referred discussion of the property's future use to the Port of San Diego.
Port spokeswoman Tanya Castaneda said Marine Group's lease has contained provisions for the possibility of having to move since 2005, and that the lease offers some stability in that it requires a comparable site to be agreed on and available. As of now, three sites that were pre-approved by Marine Group are not available.
Casteneda said Marine Group was given a 10-year extension in 2012 in return for agreeing to the relocation provision. Also, Marine Group can receive an additional 11-year extension when it moves the fabrication building, which the lease says must be done by February 2015.
She said the relocation provision offers flexibility for all stakeholders, including Marine Group, and that the lease does not specify a two-year notice.
Compensating for Costs
As Roberts contemplates his future, he also mulls how he can compete with boatyards able to lowball his bids.
Businesses in other regions — including the Gulf of Mexico, the Pacific Northwest, Mexico or overseas — can tout their cost structures. Roberts said his costs are higher, so he has to offer a different value proposition. He touts quality.
Boats produced by Marine Group have "excellent lifecycle maintenance costs," Roberts said. For one thing, the yard thinks through design issues. Removing a pump for maintenance several years into the future will not mean cutting through a major structural part of the boat, he said.
He also touts precision. Roberts demonstrated a water jet cutting machine that delivers a stream at 55,000 pounds per square inch, which is able to cut aluminum parts to within 0.002 inches of a specified dimension.
Highly skilled welders at the boatyard can command $25 to $29 per hour, with full medical and dental coverage, and 401(k) retirement plans.
More Navy Work at Play
The range training craft that those welders built are not the only Navy boats being built in Marine Group's yards.
The business was finishing a $7 million deal to build five Navy dive boats, 60 to 65 feet long. Late last month, boat No. 4 was still in its preliminary state in the Chula Vista yard, looking like a giant aluminum turtle shell. Boats begin their life upside down; crews turn them over midway through construction. Boat No. 5 was going together a few miles north in the National City yard.
The Navy has indicated that it will seek a builder for 16 additional dive boats. Roberts said he plans to bid on the work.
"It's going to be hard to beat us," he said.
Still, Marine Group will have to expend some effort to get the contract.
"There's always somebody trying to unseat you," Roberts said.