PHARMA: STOCK TAKES HIT, BUT CO. DEFENDS PAINKILLER
Zogenix Getting a Heaping Dose of Criticism for Zohydro
Friday, April 4, 2014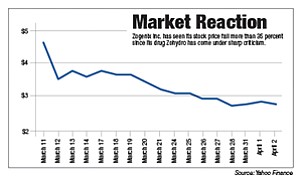 Zogenix Inc. is in damage control mode as it faces a maelstrom of criticism for its newly launched narcotic painkiller. The medicine, called Zohydro, has been targeted of late by politicians and the media for its potential to be abused.
The San Diego drugmaker insists the criticism has been "false and misleading" and that it has unfairly created a negative perception about the drug and the company, whose stock price has declined in recent weeks.
Zohydro is the only U.S.-approved drug that consists of pure hydrocodone — most are cut with acetaminophen, the active ingredient in Tylenol. Zohydro is meant to compete with prescription painkillers like Vicodin; it has been on the market since early March.
But Massachusetts Gov. Deval Patrick recently banned sales of Zohydro until it creates an abuse-deterrent form of the drug, declaring the state's rate of opioid abuse — which includes powerful hydrocodone-based medications as well as drugs like heroin — has reached the level of a public health emergency.
State health officials sent a letter March 31 to physicians and other health care providers, saying they can't write or fill Zohydro prescriptions for Massachusetts or other states — a move that Zogenix retaliated to in a public statement by it calling an "unprecedented action" that "only serves to unfairly restrict patient access."
This follows a litany of criticism ever since the drug's October approval. Congressmen are asking the Food and Drug Administration to revoke approval of the drug, and the FDA has likewise been criticized by more than two dozen state attorneys general, Drug Enforcement Administration Administrator Michele Leonhart, pain management specialists and medical groups. FDA Chief Margaret Hamburg, meanwhile, continues to defend Zohydro.
Stock Price Feels the Criticism
The company's stock has tumbled in recent months, taking a particularly deep dive in mid-March when rival Purdue Pharma LP announced it was designing an abuse-deterrent form of Oxycontin. Zogenix stock closed at $2.83 April 2 — down 38 percent from $4.54 following the March 12 announcement from Purdue.
"If the Purdue product is approved, possibly in 2015, the FDA could then rule that Zohydro is not as safe as the abuse-deterrent product and either pull the drug's approval or ask Zogenix to withdraw it voluntarily," Rob Smith, an analyst with Capital Alpha Partners, recently told Reuters.
Meanwhile, Zogenix President Stephen Farr insists the perception of Zohydro is completely wrong, saying its potency is no stronger than existing hydrocodone-based products on the market and that the drug is highly beneficial to millions of patients who suffer from chronic pain.
"As a pain management doctor myself, I'm completely shocked at the untruths circulating about Zohydro," said Bradley Galer, chief medical officer at Zogenix.
Education Part of Marketing Efforts
Galer said the company is "going above and beyond" to educate physicians, pharmacists and consumers about the proper use — and potential abuse — of the drug. It has appointed an external safety board to evaluate the drug's usage and performance in the market. This board includes specialists in pain management, addiction and law enforcement, who will share their findings with Zogenix's board and the FDA.
Zogenix is investing "tens of millions of dollars" in an abuse-deterrent form of the drug. But that's the "end game," since by that point the medicine has already gotten into the hands of the abuser, Galer said.
Another unorthodox move is the incentive program Zogenix has laid out for its sales team: Rather than compensating sales representatives on the volume of pills sold, the company incentivizes them based on the amount of education they provide to physicians, pharmacists and patients.
Other safeguards include offering patients a coupon for a free bottle cap combination lock, which prevents other users from accessing the medication without the correct code.
Zogenix, founded in 2006, employs about 250 workers. Despite its flailing stock price, Farr said the company is "actually in a stable position," buffered by revenue from other products.
The company raised $60 million in a secondary offering in November, right on the heels of the October FDA approval, to commercialize the painkiller.
"We absolutely plan to continue to with our plans to market Zohydro," Farr said.