TECH: CONCERNS OVER SHAREHOLDER VALUE SAID TO BE DRIVING CAMPAIGN
Investor Group Seeking 2 Novatel Board Seats
Friday, April 4, 2014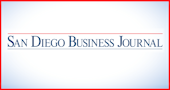 Novatel Wireless Inc., a San Diego maker of wireless modems and other communication components, was notified by a shareholder group that it's unhappy with the way the company is managed and wants two seats on its board of directors, setting up a possible proxy fight.
In a letter sent to the company last month, the group identified in a securities filing as Catamount Strategic Advisors of San Francisco said it's disappointed with Novatel's "continued poor financial and operational performance" and that it believes a change in the board is necessary to improve shareholder value.
Together, the shareholder group owns about 2.74 million shares of Novatel Wireless (Nasdaq: NVTL) common stock — about 8 percent of the total shares.
Catamount nominated two of its shareholders, Alex Mashinsky and Richard Karp, for two board seats due to be replaced this year. Novatel's board has six directors, including Russell Gerns and David Werner, whose terms expire this year.
A call to Novatel was returned by an outside publicist who said the company declined to comment on the matter. A request for comment from Catamount Managing Director Cobb Sadler wasn't returned.
Sales on Downward Trend
Gary Sutton, a longtime director on several local companies' boards and a writer on corporate issues, said Novatel will have to accept the dissenter shareholder group's two nominees, or fight that proposal. If the company chooses the latter course and manages to deny those directors seats, it "better boost performance quick, or face a clean sweep of their board," Sutton said.
Novatel's financial performance and stock price have declined in recent years. Last year, it reported a net loss of $43 million on sales of $335 million, compared with a net loss of $89.27 million on sales of $344 million in 2012. In 2011, the company reported a net loss of $24.8 million on sales of $402.8 million.
The majority of Novatel's revenue comes from selling wireless broadband products mostly to the largest wireless carriers such as AT&T Inc. (NYSE: T), Sprint Corp. (NYSE: S) and Verizon Communications Inc. (NYSE: VZ), as well as those companies' partners. The company's MiFi products act as mobile routers, enabling users to tap into the Internet and connect with other devices.
However, there is lots of competition in this space, and Novatel has been forced to lower its prices on products, which has dampened its revenue.
Competition, Operating Costs Up
According to a recent report from Zacks Equity Research, several latest versions of smartphones have Wi-Fi capability built into the devices, and some large Asian manufacturers are launching their own versions of mobile hot spot technology.
"Increased competition, higher operating expenses and a weaker outlook for the upcoming quarter led to the dismal performance," Zacks said of Novatel's fourth-quarter results.
For the first quarter, Novatel forecast its revenue will be $50 million to $54 million, below the $65 million in revenue generated during the fourth quarter. The company forecasts an operating loss per share of 15 to 22 cents. Operating losses are less than net losses.
In September, Novatel announced a staff restructuring that involved closing a development office in Calgary, Alberta, resulting in the lay-offs of 72 people. At year-end, Novatel had about 300 employees.
Shares of Novatel were valued above $12 in late 2011 and have mostly declined since then. Shares closed at $1.76 on March 31, giving it a market capitalization of $60 million.