Biotech Startup Gets a Win at UCSD's TriNet Challenge
Friday, April 4, 2014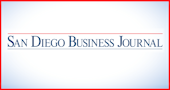 A startup company at work on a unique medical device — a photosynthetic scaffold technology that helps restore damaged or diseased tissue — won a university business competition and $6,000.
SymbiO2 took first prize on the technology venture track of the Triton Innovation Network Challenge, aka the TriNet Challenge, on April 2 at the University of California, San Diego.
"The algae-based scaffold provides oxygen directly to the wound, thus promoting tissue healing," contest organizers said in a statement, adding that the technology has the potential to eliminate medical waste.
Anil Sadarangani and Andres Volker are the Rady School of Management students behind SymbiO2, which is part of the school's SmartR accelerator. Sadarangani said he hoped the win might help the company get acquainted with angel investors and venture capitalists.
The TriNet Challenge is a partnership of three UC San Diego institutions: the Rady School, the Scripps Institution of Oceanography and the von Liebig Entrepreneurism Center. The Scripps Foundation for Science and the Environment sponsors the contest.