Emmes Buys Two Downtown Office Towers for $154.9 Million
Wednesday, April 2, 2014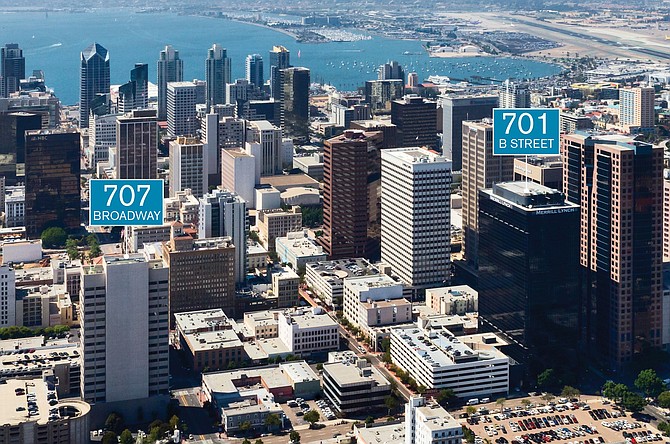 New York-based Emmes Asset Management Co. LLC has purchased two downtown San Diego office towers for a total of $154.9 million, according to brokerage company JLL, which represented the seller.
The seller of the buildings, at 701 B Street and 707 Broadway, was Equity Office Properties, a unit of The Blackstone Group of New York. Lynn LaChapelle, Bob Prendergast and Patrick Inglis led the JLL team in the transaction.
The 24-story tower at 701 B Street totals 560,329 square feet and is 84 percent leased to tenants including Merrill Lynch and JP Morgan Chase.
There are 18 stories totaling 187,304 square feet in the 707 Broadway building. Located two blocks apart, both buildings are Energy Star certified, officials said.
The acquisition brings Emmes' downtown high-rise portfolio to four properties. The company previously acquired Columbia Center (later renamed 1 Columbia Place) in 2012, and Columbia Square in 2013.
According to CoStar Group, 701 B St. was built in 1982 and renovated in 2008. The tower at 707 Broadway was built in 1961 and renovated in 2010, and was 63.3 percent leased at the time of sale.