PROJECTS, DEVELOPMENTS AND OTHER ACTIVITY IN CITIES IN AND AROUND SAN DIEGO COUNTY
Real Estate Roundup
Monday, September 30, 2013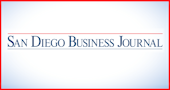 New SDCC Chavez Campus Breaks Ground
The San Diego Community College District held a groundbreaking recently for the new César E. Chávez Campus.
The $50 million project includes land acquisition and construction of a building to consolidate the programs at the César E. Chávez and Centre City campuses. The 67,924-square-foot building will house 22 classrooms and will include a multipurpose room, administrative offices and space for a Small Business Incubator. Underground parking will provide 149 parking spaces, including preferred parking for carpools and high-efficiency vehicles. The design includes sustainable features and is on track to obtain Leadership in Energy and Environmental Design Silver certification from the United States Green Building Council. The new facility will offer free, short-term job training for health careers. The project team includes Martinez + Cutri, architect; Rudolph & Sletten Inc., construction manager; Flores Lund Consultants Inc., civil and structural engineer; LSW Engineers Inc., electrical engineer; Merrick & Associates, mechanical engineer; Parterre Landscape Architecture, landscape architect; Gafcon Inc., propositions S & N program manager; Scott Ellis of URS Corp., campus project manager; Eloisa Raymundo of Gafcon Inc., furniture, fixture and equipment project manager.
Sharp Mesa Vista Hospital Renovation Project Underway
Swinerton Builders recently joined representatives from Sharp HealthCare and local mental health advocates to kick off design-build renovations to the Sharp Mesa Vista Hospital. The 17,000-square-feet remodel, designed by the Cuningham Group, will boost inpatient capacity and services with new beds, treatment rooms and recovery spaces. Exterior improvements will enhance the main entry.
The hospital will remain fully occupied during the renovations, which will be completed in two phases and are expected to be complete in December 2014.
Humanities Building at Grossmont High Complete
Construction is complete on a two-story, 35,000-square-foot humanities building at Grossmont High School in El Cajon. Site work is also complete in front of the building at the end of Dennstedt Place, so students no longer have to navigate narrow pathways or take long detours.
Phase two of construction has begun, which includes four additional tennis courts and a new auto shop with three service bays. The construction cost is $16.75 million, and the project is part of the Proposition H and U school bond programs.
Building 300 Completed At El Cajon Valley H.S.
Modernization of Building 300 at El Cajon Valley High School has been completed. The project included renovating nine classrooms, ADA-compliant restrooms, teacher work rooms, new lockers, dual-glazed windows, modern interior and exterior finishes, campus landscaping, and energy-efficient lighting and heating and air conditioning. The construction cost was $2.8 million, and the project is part of the Proposition H and U school bond programs.
Meanwhile, bids were opened in August for the construction of a new two-story building to replace the 60-year-old boys and girls physical education buildings. Construction, valued at $6.5 million, was awarded at a recent governing board meeting.
Helix Charter High School New Performing Arts Center
Helix Charter High School in La Mesa has a significantly different look with the completion of the redesigned front entry and a 34,000-square-foot performing arts complex, with a 410-seat theater, "black box" for theater-in-the-round, dance studio, digital music lab, band room, choral room, scene shop, costume shop and recital rooms.
Six interim housing classrooms were removed, enabling staff to recover parking near the administration building. Extensive site work is also nearly complete, including a new accessible parking area. Construction was valued at $15.15 million, and the project is part of the Proposition H and U school bond programs.
Shea Homes Announces
New Townhome Development
An interest list is forming for Frame & Focus at Civita, new urban townhomes being built by Shea Homes San Diego in Mission Valley.
Designed by Woodley Architectural Group, Frame & Focus is a new generation of urban design with open floor plans, decks, patios, small yards and large-scale windows. Ranging from 1,306 to 1,983 square feet, Frame & Focus offers two architectural styles to fit various lifestyle and family configurations.
This is Shea's second urban neighborhood to be built at Civita, following the December 2011 release of Origen socialGarden and Origen skyLoft, which feature three-and four-story vertical architecture.