San Diego Entrepreneur Day Events Set for Sept. 27-28
Friday, September 27, 2013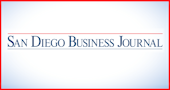 About 8,000 entrepreneurs and aspiring entrepreneurs from around the country are gathering in San Diego this weekend for the 2013 San Diego Entrepreneur Day.
The second annual event, which is expanding this year from a one-day to a two-day event, kicks off tonight with a networking party and panel discussion from 6 to 9:30 p.m. at the Fashion Institute of Design & Merchandising at 350 10th Ave. It continues Saturday with entrepreneurial education, exhibits and contests, as well as investment opportunities, from 10:50 a.m. to 4 p.m. on J Street, from between Seventh and 10th streets, in downtown's East Village business district.
Winners in 15 entrepreneurial categories will be announced during the event's Hiscox E-wards ceremonies, spotlighting individuals and companies.
San Diego Entrepreneur Day was founded by Ray Hivoral and Mike Spangler. Hivoral is founder and CEO of information technology services company Concerto Networks and has been a business consultant for Fortune 500 companies. He is also the founder of the San Diego Entrepreneur Center. Spangler is CEO of event production company Spangle Events.
For information, visit sdentrepreneurday.com.
— SDBJ Staff Report