Sequenom to Review Strategic Alternatives for Its Genetic Analysis Business
Wednesday, September 25, 2013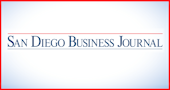 San Diego-based Sequenom Inc. said it will review "strategic alternatives" for its genetic analysis business, which accounts for about 30 percent of its revenue.
Sequenom (Nasdaq: SQNM) has hired Jefferies LLC to serve as a financial adviser in the process.
Sequenom, which has a market capitalization of about $308 million, brought in $10.3 million in second quarter revenue from its genetic analysis business. Sequenom also develops diagnostic tests for prenatal screening and women's health.
This follows Sequenom's announcement last month that it would lay off 75 employees — nearly 13 percent of its staff — as it has struggled to collect revenue from Medicare, Medicaid and other insurers.
The company anticipates it will spend about $1.2 million in severance expenses for the third quarter, but that the layoffs will save $10 million per year, it said in a regulatory filing.
The company in June opened an $18.7 million laboratory in North Carolina to help process its prenatal diagnostic test for Down syndrome called MaterniT21.
— SDBJ Staff Report